Effective Patient Communication: The Secret to Patients Saying Yes
by 6monthsmiles, on 5/23/16 2:39 PM
If you own a dental practice, then you know how difficult it is to persuade patients to say yes to dental procedures. However, you also undoubtedly know that low dental case acceptance is harmful to both your business and, most importantly, to your patients. When you know that a dental procedure would be beneficial for a patient, it's essential to find a way to help the patient agree to the procedure.
Effective patient communication techniques are often the missing link in getting patients to say yes. Ultimately, patients need to be able to trust that you're there to help them make the right decision.
The Secret to Getting Patients to Trust You
Getting patients to say yes to treatment isn't just about presenting facts. For many patients, making decisions about dental care is as much about emotions as it is about logic. If you want to begin increasing your practice's case acceptance rates, then the first step is to build trusting relationships by emotionally connecting with patients.
To build trust with patients, start by using empathy. Let patients know that you understand why they're concerned about a treatment, whether it's for financial or emotional reasons. Maintain eye contact with patients, paraphrase their concerns, and be receptive to any emotions that they express.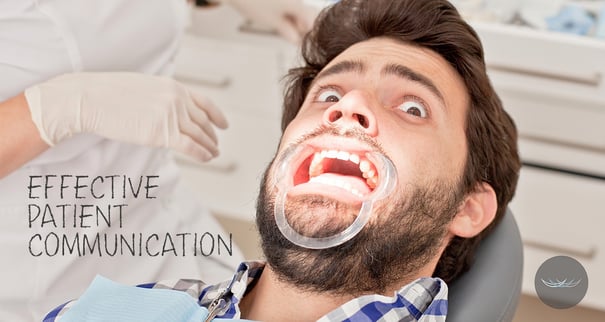 "Goldilocks" Answers: Give Patients the Information They Need
Patients will differ in the amount of information that they want to know about a given procedure. However, most patients want to be reasonably well-informed before they say yes to a dental procedure. The best way to inform patients about dental procedures is to explain the procedure in a way that's not overly technical, but that gives the patient enough of an understanding to know what the procedure is and how it's carried out. Patients don't typically want to be overwhelmed with technical information, but they do want to feel reassured that they're making an educated decision.
Go Beyond Facts to Help Patients Feel Safe
Although giving patients facts about a dental procedure is an important part of encouraging patients to say yes to treatment, many patients find it helpful if these facts are put into a narrative context. In other words, patients like to be oriented to the steps involved in a dental procedure. Patients often feel nervous when they don't know what to expect from a dental procedure. Explaining the procedure in a narrative context makes it much easier for patients to visualize the procedure, and ultimately to overcome any nervousness that they might have about what to expect.
Pros and Cons: Guide Patients in Assessing Risks and Benefits
Assessing risks and benefits is difficult for patients to do on their own when they aren't well-versed in the details of a procedure. Without guidance, it's easy for patients to make themselves anxious by focusing exclusively on the risky or painful elements of a procedure. On the other hand, patients may be putting off treatment because they don't fully understand the risks of not undergoing a particular procedure.
As a dental professional, it's your job to help patients understand why you think that a particular treatment would be beneficial. Guiding patients in assessing risks and benefits will help them make an educated decision, and will also help them trust that you wouldn't recommend a treatment if the benefits didn't outweigh any potential risks.
The Persuasive Power of Repeating Yourself
Don't be surprised if you have to repeat yourself several times before a patient says yes to a dental treatment. There's a concept known by marketing strategists as the "Rule of Seven" that states that people -- in this case, dental patients -- are more apt to believe a message after they've heard it multiple times. Effective ways to increase patients' exposure to treatment recommendations include sending email follow-ups after appointments and having staff reiterate recommended treatment plans.
The Six Month Smiles® Short Term Ortho System provides General Dentists with a practical and turnkey solution for adults with crooked teeth. Utilizing unique clear brackets and tooth colored wires, the system allows GPs to easily help their adult patients who think that they are "stuck" if they refuse traditional orthodontic treatment.
The World Class Six Month Smiles 2 Day Hands On Course provides general dentists, like you, with the knowledge and confidence needed to start using this award winning system to improve the lives of your patients with clear braces while simultaneously growing your dental practice and your cosmetic dentistry services. The ongoing support from Six Month Smiles gives you peace of mind as you help your patients smile with confidence.