The Importance of Daily Flossing
by 6monthsmiles, on 8/29/16 1:21 PM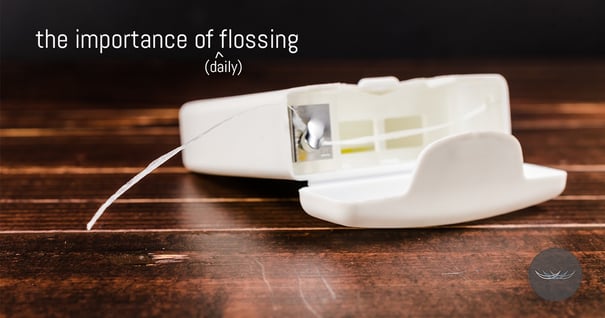 Caring for your teeth is a priority, and for most of us, brushing our teeth in the morning after we've had our coffee and breakfast and again before we hit the sack is second nature. Our parents did (one of) their jobs and trained us well. After all, once we lose our baby teeth and get our permanent teeth, that's it. They're ours to take care of and keep, or abuse and lose! But although most of us are good about the brushing part, many of us neglect cleaning between our teeth, a.k.a. flossing. The importance of flossing is stressed by our dentists, yet many of us just don't bother. Why? Perhaps it's laziness, or maybe it "grosses us out", or is uncomfortable with closely spaced teeth. Whatever the reason, however, we need to face some important facts to learn once and for all why we must take the time to floss once a day.
According to the American Dental Association (the ADA), "using an interdental cleaner (like floss) is an essential part of taking care of your teeth and gums". And despite a few recent news stories questioning the effectiveness of flossing, the U.S. Department of Health and Human Services this month reaffirmed flossing as "an important oral hygiene practice". So the experts have spoken. Flossing is an essential step to a healthy mouth.
What Will Happen if You Don't Floss?
Plaque that is not removed by brushing and flossing will eventually harden into calculus or tartar, and food particles left 'stuck' between your teeth every day can (and probably will) lead to cavities and gum disease.
What to Use
Maybe you've tried flossing before and just couldn't seem to manipulate it correctly and you injured your gums a little. There are options out there! If you're having trouble with a particular type of floss such as unwaxed floss, switch to waxed and see if that helps, or try a comfort floss (made specifically for sensitive gums). There are dental picks with floss in them that give you something to hold on to besides the floss itself. Or try one of the water flossers on the market. Whatever you choose, make sure it has the ADA stamp of approval on it so you know that it's safe and effective.
Is it Really All in The Timing?
There's an unofficial public debate about when you should floss. Some say you should floss before brushing and others say no, you should floss after you've brushed. (By the way, the ADA's MouthHealthy.org website did an actual poll on this in the Spring of 2015. The results: 53% say before, and 47% say after.) According to the ADA, it doesn't really matter -- the main thing is to do it once a day, rain or shine. It's really a matter of personal preference. The same goes for the best time of day to floss. The best time is when you have a few extra minutes to do a thorough job. If that's in the morning great. If it's after lunch, fine -- before bed? Wonderful.
How-To Floss in 5 Easy Steps
Break off about 18" of floss (that's right -- a whole foot-and-a-half!) and wind one end around one of the middle fingers on each hand. One finger will take up the floss as you use it.
Hold the first small section tightly between your thumbs and forefingers.
Guide the floss between your teeth using a gentle rubbing motion.
When the floss reaches the gum line, curve it into a "C" shape against one tooth, and gently slide it into the space between the gum and the tooth.
Hold the floss tightly against the tooth and gently rub the side of the tooth, moving the floss away from the gum with and up and down motion.
Repeat this sequence on the rest of your teeth. Voila! You're done!
Straighter Teeth = Easier Flossing
Did you know that when your teeth are straight, flossing can be a much easier process? Crowded or misaligned teeth can make flossing more difficult to accomplish. Six Month Smiles is a safe, effective, quick and easy way for adults to straighten their teeth in about six months. Using clear brackets and tooth colored wires, Six Month Smiles gently straightens the teeth that show when you smile - giving you the ability to smile with confidence, and also be able to brush and floss more easily and effectively!
To find a Six Month Smiles dentist near you - click the "find a dentist" link below!
General Dentists: Looking to add a safe and effective orthodontic solution to your practice? Click below to learn about Six Month Smiles!
Source: http://www.mouthhealthy.org/en/az-topics/f/flossing/