Communicate Your Way To Better Patient Perceptions
by Dr. Eric W. Jones, on 9/8/16 9:45 AM
Who are you as a dentist?
When a new patient sits down for a consultation, what is your demeanor like? It's important to be consciously aware of how you present yourself to patients. They will perceive your manner and draw conclusions from it that can last throughout treatment.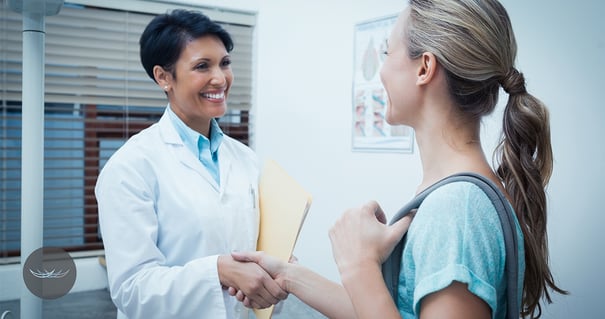 Throwback to 1997: How to Communicate with Patients
I like to reference a 1997 study by Levenson et al. on physician patient communication as a great basis for re-working your persona in the practice. In this study, researchers came to the conclusion that doctors who were sued least were those who spent about three more minutes communicating with their patients.
Those three minutes are the clincher. They encompass a period of time during which patients can begin to trust their doctor, especially when that doctor educates them about expectations for the procedure, explains possible outcomes, and laughs or invokes humor.
This recipe of engaging patients during treatment is something you should work toward.
Honesty about the not-so-fun affects of a procedure should come before the patient experiences them. Sensitivity, pulpitis, sinus exposure…you name it. They better know it ahead of time.
Don't use confusing technical terms they won't understand. Explain as simply as possible what will or could occur and do so in a way that they can process without needing DDS attached to the end of their name.
The point is this: Don't be afraid to work at getting patients to like you. If you keep them informed, are open to questions, and don't blindside them with discomfort or pain, you're on your way to better rapport with the people who keep your practice afloat.
CMS clinical faculty Dr. Eric W. Jones graduated from the Medical University of South Carolina College of Dental Medicine. He maintains a private practice outside of Atlanta, Georgia, focusing on achieving exceptional results for both simple and complex esthetic and functional problems.
To learn more about Clinical Mastery's approach to improving the quality and quantity of restorative and cosmetic dental cases, go to our website at www.clinicalmastery.com.
The Six Month Smiles® Short Term Ortho System provides General Dentists with a practical and turnkey solution for adults with crooked teeth. Utilizing unique clear brackets and tooth colored wires, the system allows GPs to easily help their adult patients who think that they are "stuck" if they refuse traditional orthodontic treatment.
The World Class Six Month Smiles 2 Day Hands On Course provides general dentists, like you, with the knowledge and confidence needed to start using this award winning system to improve the lives of your patients with clear braces while simultaneously growing your dental practice and your cosmetic dentistry services. The ongoing support from Six Month Smiles gives you peace of mind as you help your patients smile with confidence.