A New Six Month Smile, and A New Man
by 6monthsmiles, on 4/29/15 3:00 PM
My patient came to my practice after years of dental neglect. He was 22 years old and had just started a new job in car sales. This seemed unusual because his shyness prevented him from saying more than two or three words to anyone in the office, let alone starting a conversation (no doubt made worse by a smile which he did not like). Case Study by Dr. Noel Ananthan, Six Month Smiles Clinical Instructor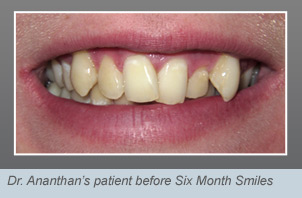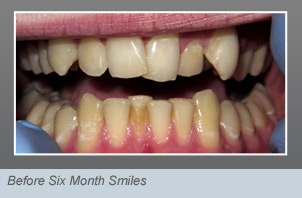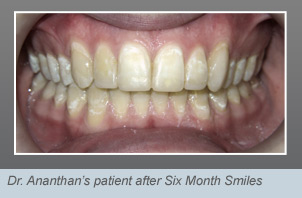 Virtually every tooth in his mouth was decayed and his pre-treatment smile speaks for itself. We finished the basic restorative in six sessions by sextant. He then asked me if I would place veneers on his teeth to give him a better smile. I told him that I could, but wouldn't because I wanted the right treatment for him. It was a leap of faith for him (my initial treatment planning had touched on traditional ortho but he stated then that he did not want to spend 2 years in braces), but he accepted Six Month Smiles treatment and the results speak for themselves.
The most powerful part of this story is that by his third adjustment appointment, my patient, who we sensed had a crush on one of our hygienists, was lingering in the office after his adjustments actually talking to her. After his braces off appointment, he came right out and asked her to lunch! This coming from a patient whose voice most of our team had never heard all throughout his restorative appointments because he was so shy. To top it off, he told us at his hygiene appointment last week that he had moved to a better position at another dealership- you could just see the confidence and pride he has now. His father, who is 52 years old, came in two months ago asking me to do for him what I had done for his son and is well on his way to a beautiful Six Month Smiles smile.
Providing good dental care for our patients is second nature to all of us. When we have a system like Six Month Smiles to impact their lives so much for the positive, it makes our profession even more of a joy and a privilege.