5 Things You Wanted to Know About 6MS Aligners, But Were Afraid to Ask
by 6monthsmiles, on 10/9/19 3:39 PM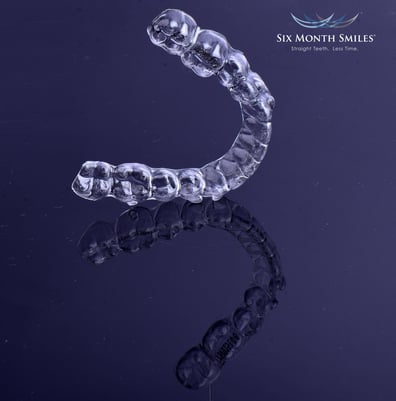 Although they've been available to Providers since last spring, some Dentists still see 6MS Invisible Aligners as the new kids on the block; And that's fine with us. Like any new treatments, we know you have questions. Not only are we listening when you speak directly to us, we're watching the Six Month Smiles forum and cyberstalking social media for everything you're not saying. Here are the top 5 things Providers like you want to know!
I don't have a scanner OR I have ______________ scanner, can I still send you an aligner case?
Yes and yes! If you don't have a scanner, no problem! We accept PVS (Poly-Vinyl Siloxane) impressions and we'll pour them up and turn them into a scan for you!
We accept most scanner types, and if we don't, then all you would need to do is convert your scan into a .STL format. From there you can upload it right when you submit a case online. But just so you have it, we accept scans from: 3Shape, Cerec, and iTero.
How do I know if my patient is a good candidate for aligners?
That's an easy one, and we made this easy for you too! There are a couple of options for you. Either ask this question right on our online forum, or you can submit the case through our case portal (both are options in the Provider Resource Center). In some instances, if you ask on the online forum we might advise you to submit the case because a deeper analysis needs to be done. If you submit the case online and the patient is a candidate for aligners, we'll create a treatment plan and 3d simulation that you can show your patient.
How much are 6MS Invisible Aligners?
That depends! We have 2 main options for aligners: Relapse Aligners (up to 10 trays included mix and match) and the more popular option, 6MS Invisible Aligners (up to 20 trays per arch). Our pricing is listed on our Provider Resource Center, or give us a call at 866-957-7645 (inside US) or 001 585 594 0606 (outside US) and we'll be happy to assist. Rest assured, our aligners are competitively priced and you even get reward points when you order them that can discount future cases further!
How do I start using your aligners?
If you're already a Six Month Smiles Provider, you can start using them today! We do encourage you to watch our training videos available in the Provider Resource Center, and please ask questions on our online forum if you have them!
If you haven't attended one of our seminars and are interested in treating your patients with our aligners- let us know! We have many seminars to choose from and we're happy to help answer any questions.
What are people saying about your aligners?
We've been pretty happy with the response from both patients and dentists! Patients are enjoying the aligners because they are surprisingly comfortable, are extremely clear, and easy to maintain. Dentists like them because they come with everything you need and make life easy! They come in a kit with several items for patients, as well as the treatment plan, 3d simulation, and easy to store/hand-out aligners. The feedback on how the aligners have been tracking has also been very positive. The case results speak for themselves.