You Spoke, We Listened. Here Are the 6 Aligner Product Updates You've Been Asking For!
by Six Month Smiles, on 9/12/19 12:31 PM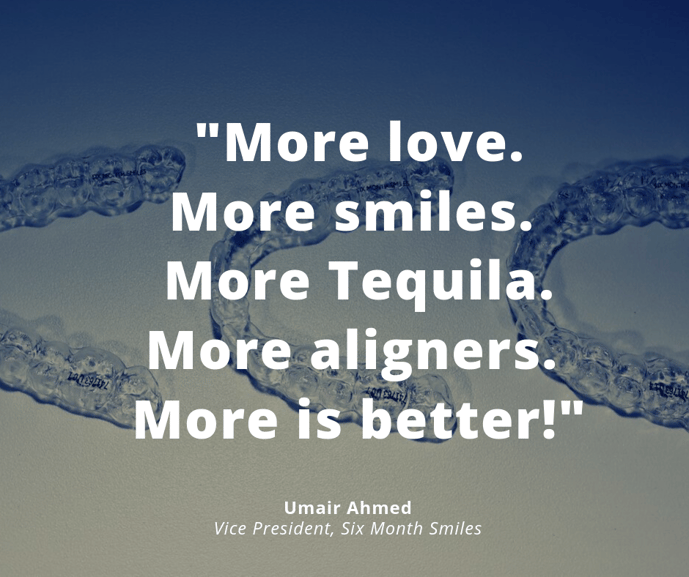 The mark of any good team member, business partner or service relationship is their ability to answer this question effectively: How can we make things better or easier for our customer? At Six Month Smiles, we never stop asking that question of ourselves, and occasionally, we ask it of you. When we launched our new 6MS Invisible Aligners and 6MS Mixed Appliance Therapy, we did just that. Thankfully, you answered openly and honestly.
You said you needed an alternative to our competitor...
We get it. You don't like having all your eggs in one basket. Now you don't have to. You no longer have to feel like a small fish in a really big ocean. Long delays, portal outages and scanner restrictions are a thing of the past. Six Month Smiles stands ready to give you a superior aligner product you can depend on. The end result is your practice runs smoothly regardless of what happens with the other guys.
You asked for more aligners...
Straight Teeth in Less Time is what Six Month Smiles does. It's only natural that our aligners were designed to give your patients the best possible outcome in the shortest possible time. Now we're giving you 42% more aligners! 6MS Invisible Aligners now come standard with up to 20 aligners per arch, and the average treatment time is still 6-10 months. Win-win!
Competitive pricing was high on your list...
It's high on ours too. That's why we've been competitively priced from day 1. We won't hold your discounts until you've done a ton of cases the way the competition does. We offer discounts via High6 packages, Loyalty Points, prepaid eVouchers from your 1st case submission.
You wanted aligners that can do more...
6MS Invisible Aligners have you covered. With the addition of more aligners, you can now treat mild-to-moderate crowding (7-10mm) and spaced cases (5-7mm).
You asked for more refinements...just in case.
Not a problem. Not only did we double the number of refinements included with your case to 2, we extended the time you have to use them. You now have up to 2 years to submit refinements for your 6MS aligner cases.
You like a company that stands behind its innovations...
So do we. Six Month Smiles has created more ways to support you than ever before. Pre- case submission, case photos can be posted to the forum for mentor consults. During treatment, schedule 1-on-1 appointments with your personal clinician to keep your patients' smiles progressing nicely. After treatment, choose among 6MS retention options and receive a 36-month warranty.
Six Month Smiles is a family company, and we consider each of our over 10,000 providers part of the family. If you need anything else, just let us know. We'll be listening.