Why You Should Meet New Patients In A Friendly Space
by Lee Ann Brady, on 1/19/17 4:49 PM
Dentistry can raise anyone's anxiety levels, even those who claim they aren't afraid. There may be an excess of amenities – warm towels, popular music, smiling hygienist, soft blankets – and laying back in that dental chair might still make for a somewhat unpleasant experience.
Don't give new patients any reason to compare you with the Steve Martin character from Little Shop of Horrors (that's a joke!). Ideally, you'll meet with them in a comfortable, professional setting that doesn't involve a dental chair.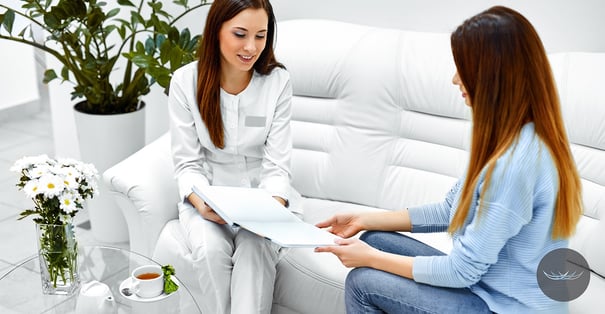 Creating a Comfortable Consultation Room
In my practice, I have an average sized office behind the front desk that I use as a consultation room. There's an attractive wooden desk with comfortable chairs. I have pictures of my family placed on attached shelves along the wall, a few attractive curios, and some dental textbooks.
These features blend the personal and the professional. I also have my diplomas hung up behind the desk.
Patients don't know if you're a good dentist or a bad dentist. They don't have a solid benchmark to judge you by until they see the results of treatment. What they can judge is how much you seem to care about them. Meeting them in a stress-free environment will make a difference in how they assess you.
Not only is a separate consultation room less intimidating for new patients, but it's also a great place to use for case presentation and treatment planning.
I've also seen dentists with a larger operatory set aside space in the corner of the room. They'll arrange suitable chairs and differentiate the area into a "conversation space." So long as the patient isn't sitting in a dental chair, you're off to a good start.
CMS Director of Education Dr. Lee Ann Brady lives in Phoenix, Arizona and owns Desert Sun Smiles Dental Care, a private restorative practice in Glendale, Arizona. Outside of her private practice, Dr. Brady teaches, presents at meetings internationally, and writes a clinical dental education blog on her website at www.leeannbrady.com.
To learn more about Clinical Mastery's approach to improving the quality and quantity of restorative and cosmetic dental cases, go to our website at www.clinicalmastery.com.