Who Knew Getting Braces Tasted Like Blueberries?
by 6monthsmiles, on 11/4/15 10:22 AM
Lifestyle and beauty blogger, Amelia, had braces when she was a teenager, and she lived to tell the tale. And from the sound of it, she sure needed some serious ortho help. Ten years later (and a few years after she crushed her retainer with her heel) she stumbled across Six Month Smiles. And, well... it made her smile. (Read Amelia's blog here.)
Another 18 months with traditional braces ("traintracks" as she says) wasn't on the agenda for this blogger and vlogger. However, wearing clear braces for about six months seemed like a reasonable option for a busy woman.
And while Amelia's story pleases us at Six Month Smiles, we are most proud to share her compared experiences. You see as a teenager with some serious orthodontic problems, Amelia wouldn't have qualified for our services. But as an adult with a "snaggletooth" (her word, not ours), she was an ideal candidate.
To start, her initial consultation at Beaufort Dental Health Centre, Staffordshire with Six Month Smiles provider Dr. Gail Cadwallader was "really easy." In under an hour, they reviewed Amelia's cosmetic ortho concerns. Her dentist took a mold of her mouth (thus the blueberry flavor), and sent the results to our fitting experts.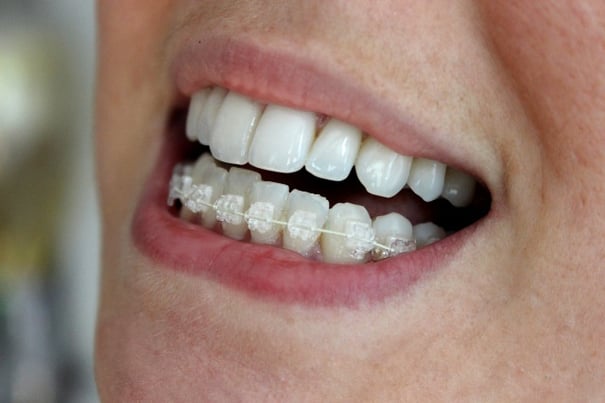 Within a few weeks, Amelia had her clear braces securely in place across her lower teeth. "It wasn't painful," she says on her blog. And while that might have been a happy surprise for her, we at Six Month Smiles know that tooth pain is unlikely during the fitting or during the six months of treatment.
On her blog, she details some of the easy day-to-day care of wearing clear braces. She also uses plenty of selfies to show off her smile while wearing the clear hardware. "You can't see them at all," she notes.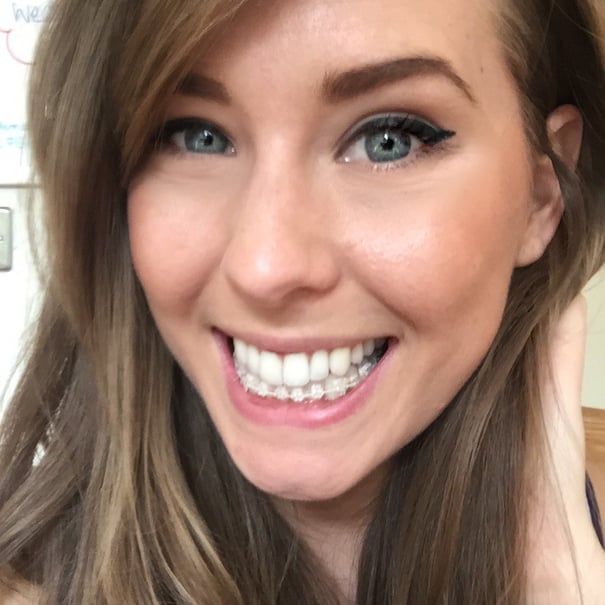 Soon, the day will arrive and Amelia's clear braces come off. Her summary, "BYE BYE SNAGGLETOOTH!" and given her smile (and the extensive use of exclamation marks), Amelia seems very pleased with the results so far.
So are we.