What It's REALLY Like to Get Certified by Six Month Smiles
by Dr. Amanda Wilson, on 11/14/16 2:00 PM
I did it – I successfully completed the Level 1 course from Six Month Smiles. As an Orthodontist with 10+ years of clinical experience with thousands of fixed and removable outcomes under my belt, this may by counter-intuitive. Truthfully, Six Month Smiles certification has been on my orthodontic bucket-list for years now. It's a wildly successful brand, both nationally and internationally. Doctors rave about the services, support, and experience. I wanted to know the "secret sauce".
Years ago, I realized that the orthodontic industry was changing. The technology was drastically evolving and tens of thousands of General and Pediatric Dentists were jumping on the bandwagon to provide esthetic and anterior orthodontic options to their patients. My referrals were dramatically dropping. I chose to re-invent myself to ride the wave of success instead of paddling upstream in an angry rage, like many of my colleagues. After three years of experience in management and consulting with major orthodontic companies and DSOs, I eventually established my own company, StraightSmile Solutions®: it's a virtual orthodontic coaching company that caters to General and Pediatric Dentists, utilizing HIPPA-compliant communication platforms. Taking the Six Month Smiles® course was just one of the many goals I achieved to educate myself to support my StraightSmile Solutions® clients.



Quite honestly, the Six Month Smiles L1 Course was the most enjoyable and productive course I've taken in years, if not in decades. You should anticipate two solid days of lectures and hands-on workshops. Your brain will be totally exhausted by the end. The Clinical Instructor, Dr. Brooks Haney, was a GP from Dallas; he was experienced, enthusiastic, and confident while gearing the material entirely towards restorative dentists. The content was en-pointe and current.
After three years almost exclusively in the aligner industry, it was a great refresher course for me, and it was jammed-packed with biomechanical and management tips that took me a decade to collect as a Clinical Orthodontist. I also agreed with everything the speaker said except, I am not a huge fan of running OCS on 16 Ni-Ti 022 slot and I also like to run my anterior power chain mesial to mesial. The construction of the clear brackets made this mechanic a bit tricky. Besides that, I was a fan of the content.
You can take your team, but some of the L1 course wasn't applicable towards groups. In my opinion, in the future, it would be great if Six Month Smiles would establish some break-out sessions for teams.
Most of the attendees were young doctors and they were friendly and communicative; they came from all over world. I enjoyed meeting them, and in the evenings and breaks, they were social and collaborative. Many participants told me that they made new friends and connections. These professional connections continue as all attendees are given access to the provider forum upon successful completion of the course. I found the administrative staff to be friendly, engaging, and supportive. The catering, venue, and experience were superior and I appreciated that they booked a block of rooms at the Westin at a very reasonable rate. They also accommodated a variety of dietary preferences and restrictions. This was a first for dental conferences and was greatly appreciated by many attendees.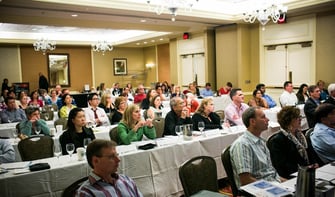 The provider forum is, by far, the hidden pearl of Six Month Smiles. It truly is an incredible resource for certified doctors. Dozens of approved Six Month Smiles Mentors and Clinical Instructors moderate the HIPPA-Compliant forum and efficiently and accurately answer the clinical questions of the certified doctors. Over the years, I've been fortunate enough to review a number of forums for various vendors and orthodontic solutions; but, without giving out proprietary information, I can confidently say that this Six Month Smiles® forum was superior. I spoke to several L2 students at the concurrent course and they raved about this support network for their production and clinical outcome.
If you aren't familiar with the Six Month Smile® product, the case fees are as little as half of other comparable products on the market, but the outcome is the same. Overall, you'll take home significantly more profit. And, since fixed appliances aren't the best fit for all patients, I can confidently say, it's a relief to deal with one company for both fixed and removable appliances. For a comparable certification cost, that you'll learn a lot more orthodontics at a Six Month Smiles® L1 course, or even an aligner certification course than you will at a 4-hour Invisalign® certification course.
Ultimately, I was very pleased by this course and would recommend it to all General and Pediatric Dentists. The 15 CE Units were well-earned, and it was a much more efficient and productive use of my time than attending ADA.
I look forward to connecting with many of my new friends and colleagues on the forum. Please message me to connect!
- Dr. Amanda Wilson, Orthodontist - StraightSmile Solutions
StraightSmile Solutions is the future of orthodontic coaching. We are the first online portal to provide a doctor-to-doctor consulting service that will allow GP's and their teams to access the knowledge and expertise of an industry expert, in order to enhance information sharing and efficiency in problem solving. I hope to revolutionize orthodontic coaching.