Aligners vs. Level 1: How to Choose Which Course is Right for Me?
by Six Month Smiles, on 1/22/20 2:12 PM
For those General Dentists interested in adding Guided Orthodontics to their practices, Six Month Smiles now offers multiple paths to becoming a provider. At the introductory level, we offer two courses: one focuses solely on aligners and the other, Level 1 course, focuses on fixed appliances. Given below are general guidelines that should help you select the right course for you.
If you are new to orthodontics or have limited experience...
You should choose the course based on which appliance you are most comfortable with offering to your patients. Some dentists start with aligners and then find that adding braces to their armamentarium enables them to do more cases. Other dentists really want to understand fixed appliances. So, this really comes down to, what do you want to learn first, Aligners or Braces? Regardless of the course you select, after attendance, you will get full access to our Provider Resource Center that's chockfull of how-to videos, articles, clinical webinars, and hundreds of case examples. If you are up for self-learning, we have many, many hours of content to keep you engaged.
If you already offer aligners in your practice...
...and are frustrated with some aspects of aligner shortcomings, such as patient compliance, overall treatment time due to refinements. Or if you're just not getting the finish you want, you have two options. If you are giving up on aligners, attend our Level 1 course. If, on the other hand, you want to understand why this may be happening to your cases, attend our aligner course.
Here's a breakdown of what's covered in each of the training courses.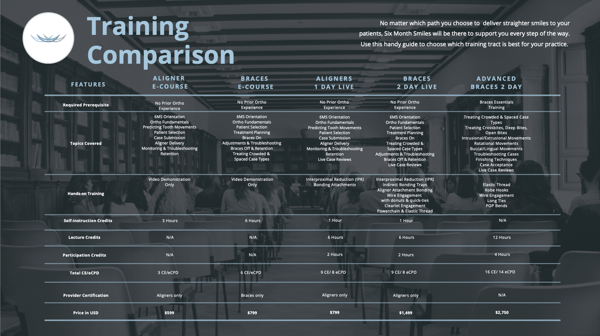 Figure 1: Six Month Smiles Provider Training Comparison Chart
In addition, the following FAQs may help you further in selecting the right course:
Q. I offer aligners already. How can I increase my knowledge and understanding of orthodontics and gain more confidence?
A. Attend the aligner course. While both the Level 1 and the aligner courses review orthodontic concepts in detail, the aligner course is specifically tailored to cover concepts that either apply to aligners or are influenced by aligners, such as case selection & diagnosis (focused on aligner therapy), review aligner capabilities and help you identify common mistakes to ensure your cases will finish correctly.
Q. I offer braces (fixed appliances). Which course will increase my confidence and understanding of orthodontics overall?
A. Attend the Level 1 course. If you are an existing provider, you can attend the Level 2 course, provided you have 5-10 cases under your belt and are looking to improve the quality and speed of your case outcomes.
Q. The Level 1 course is 2-days while the Aligner course is 1-day. Do I learn more by attending the Level 1 course?
A. Both courses give you the same amount of knowledge on orthodontic principles. The Level 1 course is longer because braces require some additional training. Tying brackets with donuts and using auxiliaries, such as elastics and power chains for space closure, require more time to teach and practice via hands-on exercises.
Q. If I attend (or re-attend) the Level 1 course, do I also get aligner training?
A. The Level 1 course has a brief overview of 6MS aligners. It's not meant to replace the aligner course. Please take the 6MS aligner course if you want to learn about aligners.
Q. Why do you cover aligners in Level 1 at all?
A. Many dentists already offer aligners in their practice and attend the Level 1 course to add fixed appliances to their practice. We review 6MS aligners in Level 1 so that these dentists can understand how 6MS aligners work and how 6MS aligners can be used in conjunction with fixed appliances.
---
For a full list of upcoming Aligner and Level 1 training courses, click here.