Tell Me More about Six Month Smiles
by 6monthsmiles, on 1/13/16 2:38 PM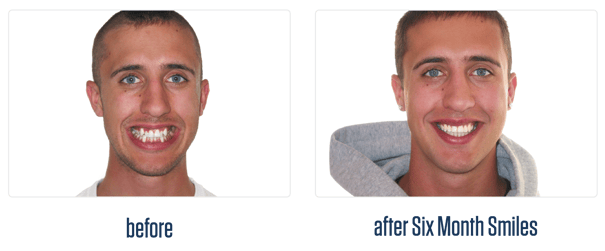 We believe that everyone should smile with confidence, and that every dentist can help! Six Month Smiles is a short term orthodontic system which can be utilized by any general dentist to provide in-chair, cosmetic ortho treatments to those adults that might otherwise avoid orthodontic treatment. Similar in treatment scope to aligners, Six Month Smiles produces very reliable results in an average of just six months.
After a two-day, hands-on training seminar, general dentists can add short term ortho to their menu of additional in-practice services. Thanks to clear brackets and tooth colored shape memory wires, the teeth gently are guided into custom, predetermined positions. Six Month Smiles has a team of bracket specialists that determine the exact position of the brackets on the teeth. The dentist simply uses custom bonding trays to ensure proper placement of the brackets, making for an easy and stress-free installation.
The Six Month Smiles System in action.

During the course of treatment, tooth-colored wires gently move the teeth providing a balanced, symmetrical smile. A patient can benefit from a full course of treatment even in the short six months between cleanings. In combination with contouring and whitening, general dentists can dramatically change the quality of any patient's smile with cosmetic ortho.
Cosmetic ortho is a service that many adults want but don't know how to request. Make Six Month Smiles part of the way you provide meaningful dentistry for your clients. Register for a free webinar below (available live or on demand) for an complete overview of the system, common questions, benefits and rewards of providing Six Month Smiles in your practice.