Six Month Smiles – A Review by @TamaraTweetheart
by Tamara Tweetheart, on 7/1/16 10:02 AM
Guest Post from @TamaraTweetheart
I'm so happy to be writing this post. June last year I decided to get a brace fitted and I just recently got it taken off. I won't go into much detail but the photos will clearly illustrate how pleased I am with my decision. I thought it was super important to blog about this because since having the brace I realised how much of a big deal it wasn't. I was so nervous about getting one in my 20's and I felt ridiculous for the most part. I couldn't help thinking I would look stupid and strange and that people would just stare at them. Quite a few people have told me they want one. My advice would be don't care about what other people think just do it for you.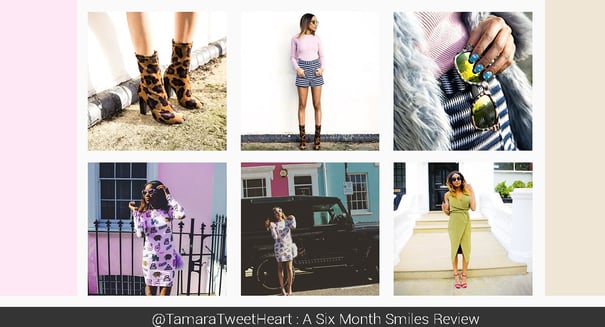 In reality it really wasn't as bad as I anticipated. People did look at it when I spoke to them but I guess that was because it was unexpected at first – you couldn't actually see it until I got close. My brace was tooth-coloured and my lips covered most of it from a distance. Whilst wearing it one thing I did notice is that a fair amount of other adults had them too most of which were a lot older than me. I became really observant about teeth because I was so self conscious.
To be honest no one cared about my brace. As an adult everybody is way to grown up and has way too many problems going on to even think twice about why I was wearing a brace. A few my friends have had one as an adult, so for me seeing other people my age do it made me feel a little more relaxed.
If you're reading this and it's something you are considering… honestly go for it! I by no means enjoyed wearing it and I often felt awkward/ like it was a prison sentence – but overall in retrospect and in the grand scheme of things it was a breeze.
I graduated in braces, I partied in them, I went to job interviews in them. I even got chatted up whilst wearing them numerous times – so they really weren't as bad as I thought. Nobody mentioned them AT ALL (unless I brought it up) and I wore them for less than a year. Wearing braces as an adult and seeing people you haven't seen in a while is like seeing people you haven't been around after putting on weight or something. They might notice it but they sure as hell aren't going to mention it – therefore you have nothing to worry about.
In school I never had a brace like my peers although my parents really wanted me to do it. I chose not to because I thought it would be far too embarrassing to wear… BIG MISTAKE! fast forward a few years my teeth got worse, I became massively insecure about it, had enough, and then as a result ended up spending 2k on new gnashers. Oh hindsight is a wonderful thing.. Mum and Dad you were so right.
The final cost for my treatment was £1782 – this covered the braces, retainers x2 and any hygiene appointments needed in between. I also had a discount. I think the usual cost of Six Month Smiles is around £2,000 – £3,500.
My new smile has given me so much more confidence. I know I have nice teeth now and that makes me feel really good. I take pride in every other part of my appearance so it didn't make sense for me to continue with bad teeth. This was a completely personal thing and it was just what I needed. Not only for my physical appearance but also for my oral health. Having well aligned teeth is better for you in the long run.
My dentist is Aura Dental Spa in St. Johns Wood, London and I would highly recommend them (David) for this treatment. I'm very happy with the results. The treatment took 11 months. The average treatment time is between 6-9 months for six month smiles. Normal braces range from 2-3 years usually.
Photos below (I took photos of my teeth from start to finish so you can see the progress)
The first ones make me cringe so bad. VOM!!!!
Look at my new teeth though, they look so much better. I love them! p.s. sorry about the phone photos… but you will totally get the jist.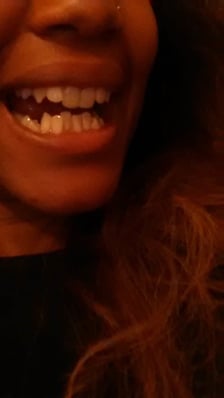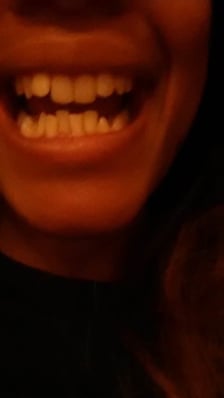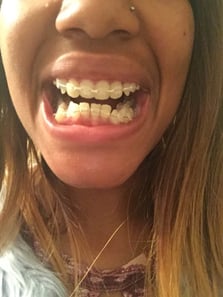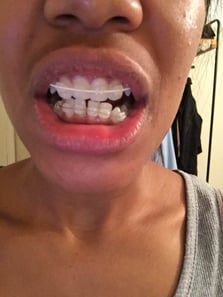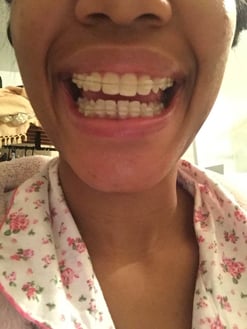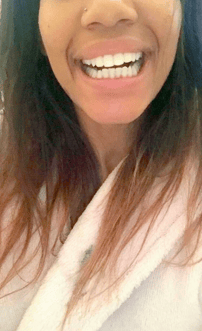 I'm so glad it's over and that I did it. Voilà!
Stay up to date with me on Instagram –@tamaratweetheart
Interested in Six Month Smiles? Patients: Find a dentist near you that provides Six Month Smiles at the link above! Dentists: Interested in providing Six Month Smiles to YOUR patients? Click below for a free informational eGuide!