US-BASED SHORT-TERM ORTHODONTICS COMPANY TACKLES LEADING DIY AND CLEAR ALIGNER MANUFACTURERS HEAD-ON.
by 6monthsmiles, on 5/15/19 11:19 AM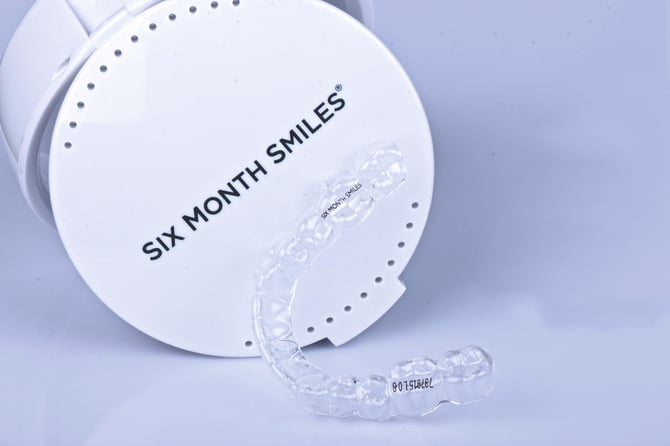 Six Month Smiles® enlists licensed dentists to provide a safer alternative to at-home dentistry.
THE COLONY, TEX. — Consumers and dentists searching for a safer alternative to DIY clear aligner treatment can rejoice. The North American medical device manufacturer, Six Month Smiles, has announced the launch of its Invisible Aligners product which is overseen by the general dentist in most cases.
DIY aligners such as those made by industry newcomers have recently come under fire from consumers and the media alike.
"Because we've spent the last 12 years perfecting clear braces for adults, we're keenly aware of what aligners can and cannot do," said the company's Vice President Umair Ahmed. "That intelligence was an integral part of fixing the process. Now we can bring dentist and consumers a complete solution based on what's best for the patient."
Since Six Month Smiles now offers adults both brackets and wires and invisible aligners, the company's treatment planners are indifferent to recommending one solution over the other. If a patient is not a candidate for invisible aligners or aligners alone, it's orthodontists will recommend a clear braces or a mixed appliance option.
To receive treatment with clear braces or invisible aligners, a patient must see a trained Six Month Smiles dentist. The dentist then scans the patient's teeth and submits those scans to Six Month Smiles for an orthodontist-overseen treatment plan. Together with the dentist, Six Month Smiles provides a 360° preview of the results the patient can expect within 6-9 months of treatment.
Six Month Smiles President and CEO, Perry Lowe, added "Our system is designed to give the dentist more control over the patient's outcome. That's very different than painting the patient into a corner of endless refinements. Every 6MS treatment plan is overseen by an orthodontist. So the patient and their dentist can rest in the fact that they're never on their own."
Six Month Smiles Invisible Aligners and Mixed Appliance Therapy is currently available in the United Kingdom via its UK Intake Centre and will be available in the US in early June 2019. For more information on Six Month Smiles, visit 6MonthSmiles.com

About Six Month Smiles:
For over 12 years, Six Month Smiles has been a global leader in short-term orthodontics. Through a provider network encompassing over 12,000 dentists in 50 countries around the world, Six Month Smiles has been able to deliver quality cosmetic orthodontic solutions that pay off its promise of giving patients straight teeth in less time. Six Month Smiles is a North American medical device company specializing in cosmetic orthodontic solutions and has treated over 150,000 satisfied adults.