Providers: The One Conference you don't want to miss!
by 6monthsmiles, on 3/9/16 12:38 PM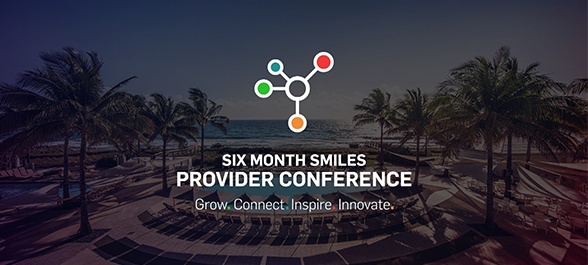 In October of this year, Six Month Smiles will gather our current providers together to discuss the ways we can move forward with innovative ideas, collaborative efforts, and compassionate treatments. The four pillars of this event are Grow, Connect, Inspire, and Innovate. Here at Six Month Smiles, we are confident that any provider who attends our conference will gain valuable insights into the Six Month Smiles system, as well as find invaluable connections in meeting other providers face to face.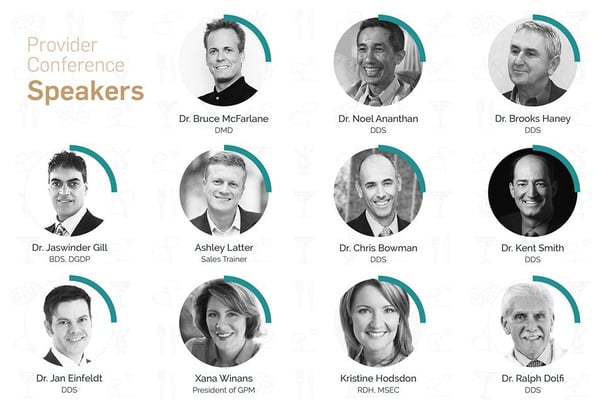 Grow.
Six Month Smiles asks its providers to grow professionally on an ongoing basis. We are constantly perfecting our systems and asking our providers to adapt and change as the company grows and expands. At our event, providers will have a chance to invest themselves into two areas of growth. First, we will be presenting several clinical case studies to help our providers understand how to treat some of the more difficult cases. The Six Month Smiles system can address complicated and difficult cosmetic ortho issues, and we want our providers to feel comfortable with the opportunities and limits of treatment options. Second, we want our providers to see the ways in which the Six Month Smiles brand can help grow their businesses. Because our in-chair solution keeps patients in house and provides a fast and convenient option for adults, providers who promote Six Month Smiles see practice growth in all areas of treatment. Six Month Smiles gives you an opportunity to engage your patients in a new, meaningful way, and helps you grow revenue and create company goodwill.
Connect.
With Six Month Smiles providers all over the world, we rarely have the chance to meet face to face. After your initial two day training, you went back to your corner of the world to help create perfect smiles. With our provider conference, it's time to reconvene and share our stories and experiences. Most of our providers use the on-line tools to connect with each other about difficult cases, marketing solutions, and staff participation. With a chance to meet in person, we are hoping that mentors and mentees will talk about the Six Month Smiles system in casual and formal ways. We are building a slate of activities from breakfast meetings to roundtable discussions so that you can connect with us on the corporate side along with your fellow providers from around the world.
Inspire.
We want to inspire you. And we want our providers to inspire each other. Six Month Smiles is a critical part of creating a dental practice focused on meaningful dentistry. Every dentist can pull a molar or clean away plaque. We want to inspire you to feel enthusiastic about sharing our system with every patient who could use it. Adult patients want great smiles, and most aren't willing to endure two years of metal braces to simply feel confident about smiling for a photo. We have endless stories from patients who genuinely feel different about themselves after Six Month Smiles, and we want to inspire you with those stories. Plus, we want to encourage you to inspire other providers. If you've overcome a fear of complicated cases, we want you to use the provider conference to share that experience with other dentists. We've found that most dentists struggle with treatment fears, but by sharing those stories, they can inspire each other to be more comfortable offering Six Month Smiles.
Innovate.
Six Month Smiles continues to innovate and we need providers' help doing so. We are exploring the ways that we can go 100% digital in treatment planning and case submissions. 3-D technology will allow Six Month Smiles to create a flawless image of a patient's teeth. And with digital case submissions we can reduce treatment times, allowing patients to achieve confident smiles even faster. Innovation is also a hand-on effort. We need to have continuous feedback from our providers so that we can continuously improve the implementation, treatment, and removal procedures. The conference will give us the chance to hear your feedback in person and discover the ways in which we can collaborate as a united team.

Grow, Connect, Inspire, Innovate…
We want to see you at our event. We are planning a slate of activities to meet the needs of all our providers. Marketing seminars, peer counseling, case studies, team member activities and hands on work… we know that you will find the kind of knowledge and camaraderie you need to take your Six Month Smiles experience to the next level.
October 13-15, 2016 at the Boca Raton Resort and Club in Boca Raton Florida.
Register before June 30th to receive over 20% off!
Not a Six Month Smiles Provider? Want in on the action? Become a Six Month Smiles Provider today! Click the link below to find out more about the system and how it can transform your practice and your patient's smiles!