Offer Top Notch Service to Create Lifelong Referral Sources
by Dr. Michelle Hedgecock, on 1/27/20 4:09 PM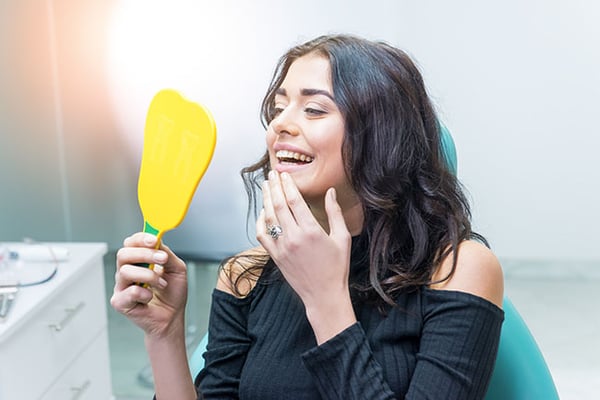 As a fee-for-service dentist in a competitive market like Austin, Texas, I understand the competition for new patients makes owning a practice much more difficult. The investment required for marketing and advertising increases substantially, and to be successful, you have to find a way to stand out from the crowd. On top of that, you face the challenge of earning their trust so that treatment plans will be accepted. The way around those headaches seems to be to create a relationship in which your patients become your raving fans!
Here are some ways you can create value and turn your patients into raving fans:
Offer online scheduling. We are currently using LocalMed which works directly with my dental software to get the patients scheduled in the correct time slots. This provides a tool to engage the patients who don't like to pick up the phone and the many who are looking to book appointments after hours. It's super convenient for everyone! If you are Six Month Smiles Provider, be sure to ask Six Month Smiles to add your LocalMed scheduler to your profile on their Find a Doctor website, where patients look for dentists in their area.
Hire a receptionist who is kind, personable, and lets new patients know why they are calling the right place. This is an opportunity to build trust from the get-go. My staff may mention something about why I can provide great care for the service they are looking for and how other patients have felt about the treatment they have received. For example, if the patient is interested in Six Month Smiles they will say "you will be in great hands with Dr. Michelle, she has so much experience with 6MS that she teaches the procedure to other dentists and our patients have loved their results!".
Give patients the opportunity to fill out their paperwork online, in advance, on their own schedule. Fillable forms that are submitted online are the best, so there is no printing necessary. Stay up to date with technology by having your new patient paperwork available to be filled out on iPads versus paper copies.
Patients should always be greeted by their name, with a smile, when they walk in the door. The receptionist should stand up and introduce themselves and then offer them a beverage. We have a coffee station with filtered water and mints.
Offer "comfort items" that patients aren't typically used to getting in the dental chair:

Lavender essential oil sprayed on the patient bibs
Heated neck pillows and blankets
Netflix on the ceiling with noise canceling headphones
Phone chargers available in the operatories, etc.
Toothbrushes and mouth rinse in the patient restroom
Nitrous oxide and sedation options
Warm towels to wipe their face after treatment
Ice packs with your logo to use after any surgical procedures
Make sure your office does not smell like a dental office

Offer payment options. Not many offices are doing this and we convert so much more treatment by helping patients afford their care. You can do in-house financing or third-party financing or both.
The doctor should call every patient who has received an injection the night of their procedure.
Ask for referrals and reviews every single time you get a compliment from a patient.
These things are simple and affordable to implement and will make a world of difference in your patient experience!