More Than Co-Workers: Becoming an Efficient Dental Practice
by Clinical Mastery, on 6/16/16 1:03 PM
In addition to the fifteen-minute morning huddle, it's critical to meet with your team for a longer period of time on a monthly basis. Every step you take to become a more efficient dental practice will affect the number and quality of cosmetic cases you perform.
Solidifying Your Dental Practice Team
Most people dread meetings because they take time away from important work and often derail into negative ruminations on the things that aren't going well (rather than the things that are).
In my office, I make sure to schedule a longer team meeting with catered lunch every four to six weeks. I block out an afternoon where we can sit down and have quality time together.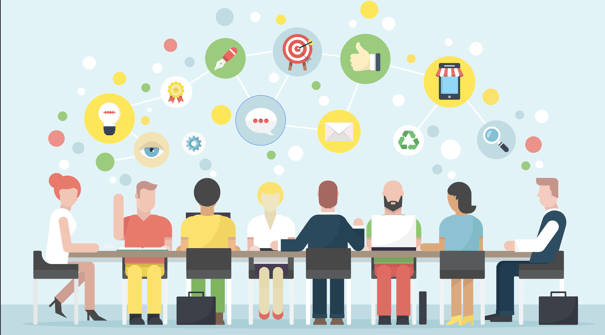 Work shouldn't just be a nine to five grind where everyone grumbles through their duties and watches the clock in desperation until they can return home to Netflix. Though occasionally our monthly team meeting devolves into a complaint heavy gripe session, the moments when it brings us together make it worthwhile. We can become closer and more content in our work environment.
Many of the meetings become logistics discussions on aspects of the office like uniforms and sterilization. But what they really do is open up a line of communication and bonding between team members. This solidifies our ability to function efficiently.
Personal Connection is Invaluable
At one meeting, a team member requested that everyone bring in old photos to share at the end of the next meeting. We were hesitant at first at the prospect of scrounging up embarrassing relics of the past.
Once we brought them in, it turned out to be one of the best things we've ever done in a meeting. We shared pictures of formative moments from our childhoods and youth. There were wedding photos and pictures of family members when they were much smaller.
Put simply, it was fun and it enabled us to get to know one another at a deeper level. This sort of personal connection is invaluable.
More than Co-Workers
The goal of these meetings is to be positive and improve upon what we have done before. We work on a variety of levels that will eventually lead us to become a more cohesive team: clinical and technical development, resolving systems based issues, resolving conflict.
Your dental office will never be perfect and conflict free. Just like the rest of life, there will be times when everything runs smoothly and others where it feels like the roof is caving in.
Monthly meetings connect us in relationships that promote grace and caring. We are able to become more than a group of co-workers. We become a team that can deal with the lows of stress and highs of excitement.
CMS Director of Education Dr. Lee Ann Brady lives in Phoenix, Arizona and owns Desert Sun Smiles Dental Care, a private restorative practice in Glendale, Arizona. Outside of her private practice, Dr. Brady teaches, presents at meetings internationally, and writes a clinical dental education blog on her website at www.leeannbrady.com.
To learn more about Clinical Mastery's approach to improving the quality and quantity of restorative and cosmetic dental cases, go to our website at www.clinicalmastery.com.
The Six Month Smiles® Short Term Ortho System provides General Dentists with a practical and turnkey solution for adults with crooked teeth. Utilizing unique clear brackets and tooth colored wires, the system allows GPs to easily help their adult patients who think that they are "stuck" if they refuse traditional orthodontic treatment.
The World Class Six Month Smiles 2 Day Hands On Course provides general dentists, like you, with the knowledge and confidence needed to start using this award winning system to improve the lives of your patients with clear braces while simultaneously growing your dental practice and your cosmetic dentistry services. The ongoing support from Six Month Smiles gives you peace of mind as you help your patients smile with confidence.