Managing patient care during the COVID-19 shutdown
by Six Month Smiles, on 4/21/20 3:55 PM
In this time of uncertainty, the toughest part is that we don't know what the future holds. For your patients in treatment and quite possibly for yourself, this can be a cause for anxiety. Recognizing this need, we have prepared the following tips to help you manage your patients' care.
For many patients, the primary concern is when will they be done with treatment. You can inform your patients that, due to the action of braces and wires and/or sequential aligners, i.e., the technology we are using, their treatment is progressing even when you don't see them for a prolonged period of time. Whatever life brings, assure them that you will do everything possible to keep their treatment on track.
Listed below, are tips for specific situations that your patients in braces or in aligners may encounter. At Six Month Smiles, we are open and ready to assist you in any way that we can. We are in this together and together as One!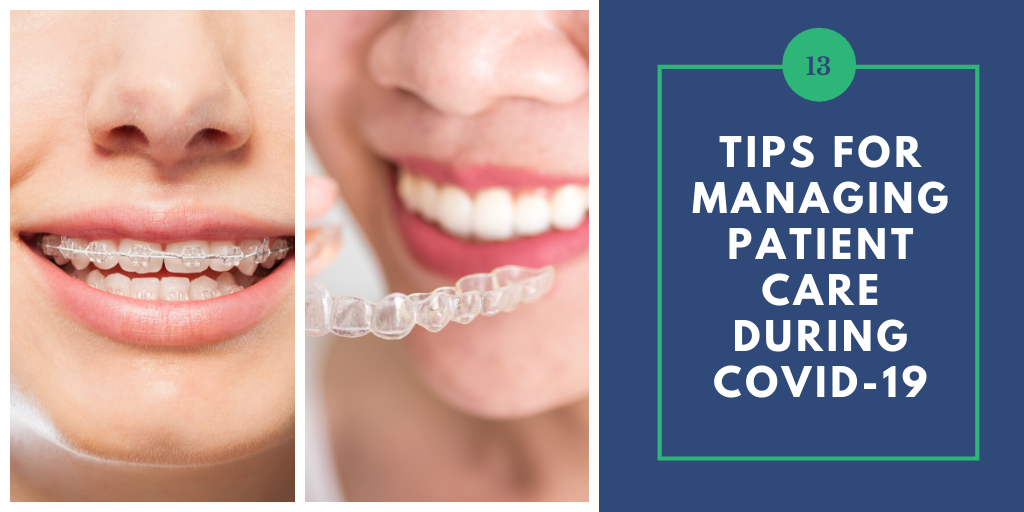 Patients in braces:
If a patient calls with a loose bracket that is sliding on the wire, ask them to attempt to gently remove it by prying off the small elastic donut with a clean pair of tweezers. If the bracket cannot be removed and is causing irritation, place a small piece of wax over the bracket to act as a cushion.
If a bonded retainer comes off wear the removable retainer 24/7 except for eating and brushing until the office re-opens.
If the wire pulls out of the bracket or the molar tube, use clean tweezers and attempt to guide the wire back into the bracket or tube. If you are unable, either use a clean pair of nail clippers to clip the wire behind the last bracket to which it is attached, or cover the poking wire with wax.
If you need to see a patient on an orthodontic emergency basis, consider long tying any teeth that are in a good position or long tying brackets or tubes that continually come dislodged.
For patients in elastics, instruct them to continue to wear elastics as prescribed. If the patients start to run low on your elastics, then let them know to wear elastics at night-time only. If patients run out of elastics, ask them to text you with their name and address. Let them know that you will do your best to get a new pack in the mail, or will call them to arrange pickup.
Lastly, please make sure to inform your patients to keep good oral hygiene by brushing and flossing three times a day. Also remember to tell them to NOT eat forbidden foods, as this helps minimize breakage/ bracket debonds.
Patients in aligners:
Your patient can remain in the current aligner for up to 4 weeks. The aligner material does relax over time but our aligners are constructed from superior plastic and we expect minimal changes to the aligner from extended wear.
If the next aligner sequence does not require IPR, you can "remotely" deliver (schedule pickup/ mail) the next aligner and ask the patient to use chewies to seat the aligner. Instruct the patient to take selfies and send them to you to ensure the aligner is fitting well.
If the next appointment/ aligner sequence requires IPR and your office is still closed, remain in the current aligner.
When you are able to see the patient, ensure current aligner seats well, there are no big gaps between aligner and teeth, and the attachments are not detached and fitting well within the reservoir. Take photos with and without the old aligner in the mouth and with the new aligner in place.
If the old aligner is fitting well there should be no problem fitting the next aligner, there might be some gaps initially but persevere with chewies and ensure there is no tightness between IP contacts, perform IPR as guide.
Contact 6MS Support immediately if you suspect that the next aligner is not seating well and big gaps are present 2-3mm. Keep the patient in the old aligner until this is resolved.
Finally, please make sure to tell your patients to continue to wear aligners for 22 hours per day. Maintain good oral hygiene by brushing and flossing three times a day. This is so important as patients are not able to come into your office for their checkup and hygiene appointments. Let them know that you will schedule their appointment as soon as conditions allow. We all want to get back to work but we want to do this safely.
Many dentists that we speak with are in constant communication with their patients and some are also doing virtual consultations using secure online meeting platforms. If you are following up with your patients, we hope you can use some of the tips here to check up on the patients' progress.
At Six Month Smiles, we are still open and available to assist you in any way that we can. We are in this together.