Making a Commitment To Talk About Dentistry – Getting Your Numbers Up
by Lee Ann Brady, on 7/21/16 10:07 AM
If you're looking for patients who have opportunities for esthetic changes, the best place to start is in the group of patients that you already have. In this post, I discuss a common blind spot that may be preventing you from getting patients to "Say yes."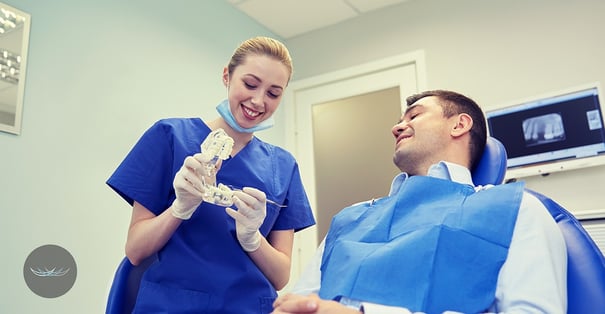 During your team meetings and morning huddle, what expectations do you set for how they interact with patients? It's possible that their desire to build rapport with patients is actually preventing them from having productive conversations about dental care.
Personal Conversations May Be Your Achilles' Heal
I recently spoke with a dentist who told me that one of his hygienists is afraid to talk about dentistry with patients. She is worried that discussing treatment will damage her friendly relationship with them…what if their feelings are hurt, or they fear the treatment, or they become ashamed at not being able to afford it?
Over the years, I've learned that the people we are closest with are those we must be willing to speak openly with. In this case, the hygienist is potentially hurting the practice by placing too many expectations on what the patient will say. If she is excited about the dentistry that the practice offers, then it should be natural to want to promote it and provide the option of improved dental health or aesthetics.
The solution is to discuss this with your team. If the balance of patient conversations is tipping too far to the personal side and neglecting the dental, then serious change must occur.
We all want to present a happy, likable front to patients, but we must also remember what the purpose of the friendly relationship is. Talk about their family and how their life is going, so long as dental concerns are not forgotten.
There are a couple of ways that you can get your team comfortable with discussing dentistry:
Look at digital images of teeth together and practice talking about what you see.
Emphasize that the goal is to get patients curious and interested in treatment.
They may find that suddenly patients are leading the discussion in how to make their mouths healthier. Dental professionals have a wealth of knowledge that they simply have to be willing to divulge.
Know your patient and let them understand that you and your team care about them as a person. Then get to the point of how you can work with them to improve their care.
CMS Director of Education Dr. Lee Ann Brady lives in Phoenix, Arizona and owns Desert Sun Smiles Dental Care, a private restorative practice in Glendale, Arizona. Outside of her private practice, Dr. Brady teaches, presents at meetings internationally, and writes a clinical dental education blog on her website at www.leeannbrady.com.
To learn more about Clinical Mastery's approach to improving the quality and quantity of restorative and cosmetic dental cases, go to our website at www.clinicalmastery.com.