Kelly's Six Month Smiles Story #7
by 6monthsmiles, on 11/18/15 8:35 AM
Over the last few months, I've been telling you all about my experience with Six Month Smiles, and I'm back now for a quick update, four and a half months into the treatment. My name is Kelly and I'm quickly gaining confidence through my new smile.
Here are some resources to learn more about Six Month Smiles Clear Braces:
---
Video #7: My Six Month Smiles® Experience

---
Happily, there is not a lot to report since my last update. I've been to Bensonhurst Dental pretty much every two weeks for adjustments, but everything is going really fine. My bite guards have been lowered quite a bit, which makes eating a lot easier, and things are really shaping up. Right now is the most comfortable I've been since I had the braces put on – I'm really used to it now and I don't even notice them anymore. During last week's appointment, Dr. Rubenshtein changed my wire – the last one I'll have – and it was smooth sailing.
Getting the last wire means that I'm almost done! I have had the braces since June 22, and I'm promised they'll be off by Christmas. I can't wait to see the end result. I'm completely amazed at the transformation in my teeth. In such a short time, such a big change has occurred. People have told me they've noticed an improvement in the slight lisp I had, and it must be because my teeth aren't so crooked any more, getting in the way of my tongue. I love hearing this, and I'm so glad I chose to get the Six Month Smiles braces. It seems like I just got them on, and it's almost time to take them off!
A coworker of mine just had Invisalign done a few weeks ago. I must say, after seeing what that is all about, I'm very glad I chose Six Month Smiles instead of Invisalign. She has to have these trays over her teeth for two years, and as I just said, it seems like my braces just went on and it's nearly time to remove them already. For two years she'll be putting those trays in, and taking them out all the time, whenever she wants to eat or drink anything except water. It seems like a real hassle. Six Month Smiles was definitely the better choice for me.
My next visit to the dentist is on Nov. 23, and I'm hoping Dr. Rubenshtein tells me that the next visit after that will be the "braces off" appointment – I'll let you know! Every time I'm there, they take photos so we can see the progress.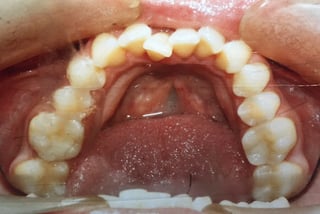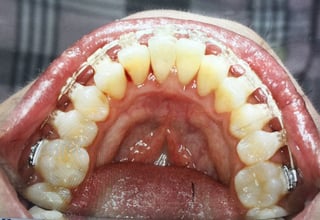 Here you can see my day one photo compared to now – can you believe it?!
-Kelly