Introducing Relief BiteCare™ Nightguards
by Six Month Smiles, on 1/12/22 7:49 AM
Six Month Smiles is proud to announce a new advancement in the fight to relieve pressure points and add stability for patients experiencing grinding issues and TMJ disorders. Six Month Smiles® Relief BiteCare™ nightguards can now be prescribed exclusively by Six Month Smiles providers.
"We know nightguards or 'bite splints' can make a world of difference for bruxing and grinding patients, alleviating pain, and preventing further destruction of existing healthy dentition," said Perry Lowe, CEO of Six Month Smiles. "It's a challenge Dentists face regularly, and we have the tools to help them help their patients."
Relief BiteCare™ nightguards can be printed in two types of materials—hard or soft— and boast 8 additional customizable features such as Labial/Buccal/Lingual coverages, thickness and level of contact.
Dentists may recommend an upper, lower nightguard or both, and choose the type of material that would best protect the patient's dental work and natural dentition. Relief BiteCare™ nightguards alleviate or eliminate the symptoms of bruxism such as: Headaches, Jaw pain, Facial soreness, Tooth damage, Tooth sensitivity and Earaches.
Starting at a lab fee of $59.99/£44.26/€53.04 for Dentists, Relief BiteCare™ nightguards, can be processed, 3D printed and shipped to Dentists in as little as 5 days from PVS impressions or .STL files.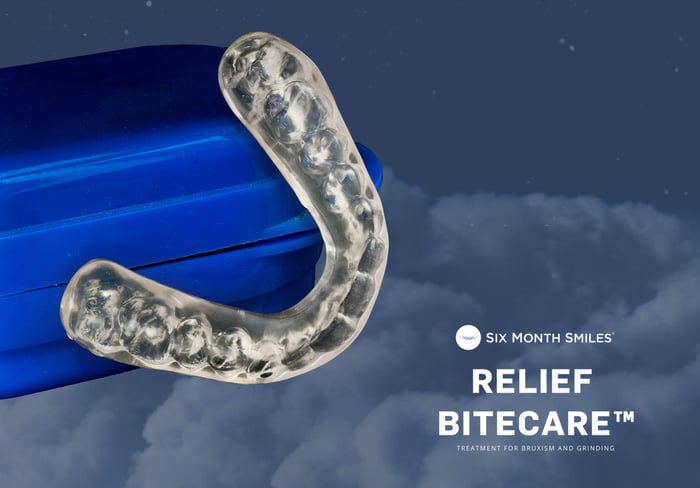 For more information on available options, visit the Six Month Smiles Provider Resource Center or contact us.