Improving Your Dentist Office Culture
by 6monthsmiles, on 6/13/16 2:54 PM
There are a number of different factors that contribute to a dentist office culture. The way in which your staff communicates with one another and with patients is a vital part of patient retention. It is important that dentists do everything in their power to ensure that their patients are satisfied with each interaction they have from the moment they walk into the dentist office until the minute they leave. There are many ways that you can promote a positive culture in your dentist office.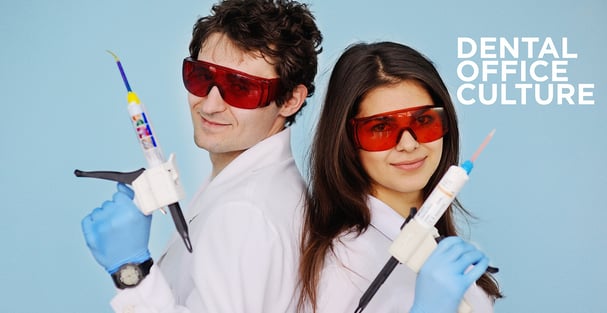 Make sure that the office is clean and organized.
Patients want to have a good first impression when they first walk into a dentist office. If the lobby is messy and disorganized, this will most likely be a turn-off to patients. If the lobby is clean, patients will feel welcomed. You may also want to personalize your office so that it reflects the uniqueness of you and your team. This will give patients a better idea of who you and your staff are while you and your staff learn about them.
Talk to patients on the phone.
Although an automated phone system can receive messages and get the job done, it is a turn-off to most people. An automated phone system makes patients believe that they are not a top priority. A patient wants to be able to immediately reach the person they want to talk to.
Regularly monitor the operations of your office.
As the head of your office, it is up to you to motivate and empower your staff to provide exceptional customer service to patients. By regularly monitoring the operations of your dental office, you will be able to make sure that your staff is providing the best customer service possible to patients.
Establish an incentive system that rewards good works.
A happy staff ultimately means happy patients. The more involved and engaged your staff feels with the dental office, the more likely they are to keep patients happy. You should make it a point to go out of your way and recognize employees when they are doing a good job. When a customer service mishap occurs with one of your employees, take it as an opportunity to educate them about what they did wrong and how they can handle the situation more effectively in the event that the same mishap occurs in the future.
Reduce your stress level.
It is important that both you and your employees are stress free while at work. A stressed owner or a stressed employee can ultimately result in an equally stressed team. Make sure that you are managing your stress levels effectively and get help if you need it.
Tell stories.
Having a dental operation can be frightening, especially for anxious patients. Telling a story to ease the tension can go a long way with these patients. By telling stories and engaging your patients in fun conversation, you can uplift their spirits.
Find ways to put excitement back into your career.
Patients can tell when you are passionate about what you do. You should find ways to put enjoyment back into dentistry. When you portray happiness and people see that you are excited about what you are doing, they want to be a part of it.
By making you office culture more attractive, you will ultimately be able to attract more patients and a great team. By following these tips, you will be able to set your dental practice apart from the competition and experience considerable growth of your practice. You will also be able to lift the spirits of both your team and patients.
The Six Month Smiles® Short Term Ortho System provides General Dentists with a practical and turnkey solution for adults with crooked teeth. Utilizing unique clear brackets and tooth colored wires, the system allows GPs to easily help their adult patients who think that they are "stuck" if they refuse traditional orthodontic treatment.