How a Checklist Can Improve Patient Outcomes in Your Office
by 6monthsmiles, on 6/9/16 9:45 AM
By Dr. Lee Ann Brady
Never underestimate the complexity of your practice and patient care. Regardless of how detailed, organized, and thoughtful you are, every dentist can benefit from having a consistent method of completing tasks.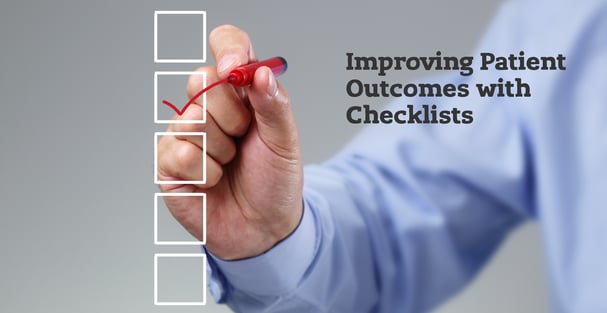 Over time, I have learned that checklists are a busy dentist's best friend. Why make things harder on yourself if you don't have to? Rely on a system of record outside of your own cluttered mind so that you can produce repeatable results and avoid problems.
In the long run, this can affect everything from patient outcomes to day-to-day operations in the office. You may see the benefits carry over into your ability to provide and market services to your patients.
Think Like an Airline Pilot
The idea of using checklists when engaging in complex tasks comes from a book that I read many years ago: "The Checklist Manifesto," by Atul Gawande. I began to implement some of his concepts into my efforts at the practice and was amazed to see how it improved the way we functioned.
Gawande outlines a system designed to minimize risk and increase success and safety in the profession of airplane pilots. Gawande saw carry-over results in other work environments, like hospitals and medical protocols. What manifested as improved safety for airplanes showed up as improved patient outcomes in health care.
In your practice, allow yourself to break down complicated procedures. It's much easier to overlook a step when the process is intricate. The resulting issue may be correspondingly catastrophic as a consequence of the high stakes involved.
In my practice, I use checklists for complex procedures. One example that comes to mind is bonding porcelain veneers. If we accidentally skip the step of applying saline, the restoration may fall off prematurely.
Checklists can also be used to maintain office systems and the general level of cleanliness. From cleaning and servicing the vacuum suction to restocking procedure kits, an efficient practice is dependent on the reliable care of its employees.
Surprisingly, the greatest challenge to checklists is remaining humble enough to consistently use them. No matter how many times you have gone through the steps, you are still capable of missing one. The human brain is fallible, but luckily it is also ingenious enough to overcome forgetfulness.
A smoothly running office that turns out successful cases is one that patients can trust for high-dollar aesthetic treatments like short term ortho.
CMS Director of Education Dr. Lee Ann Brady lives in Phoenix, Arizona and owns Desert Sun Smiles Dental Care, a private restorative practice in Glendale, Arizona. Outside of her private practice, Dr. Brady teaches, presents at meetings internationally, and writes a clinical dental education blog on her website at www.leeannbrady.com.
To learn more about Clinical Mastery's approach to improving the quality and quantity of restorative and cosmetic dental cases, go to our website at www.clinicalmastery.com.
The Six Month Smiles® Short Term Ortho System provides General Dentists with a practical and turnkey solution for adults with crooked teeth. Utilizing unique clear brackets and tooth colored wires, the system allows GPs to easily help their adult patients who think that they are "stuck" if they refuse traditional orthodontic treatment.
A wide range of tooth alignment and movement can be achieved with Six Month Smiles clear braces, including: extrusions, rotations, intrusions and tipping. The Six Month Smiles award-winning clear brackets and shape-memory wires are specifically engineered for optimum and predictable short-term orthodontic results. The clear brackets are expertly positioned in custom bonding trays- ready for 1-step seating, making the braces-on process easy and stress free.