Facebook Marketing for Dental Practices
by 6monthsmiles, on 8/8/16 1:09 PM
Are you missing out on one of the most fun, engaging, and low-cost sources of marketing available to you? Marketing via Facebook can be intimidating for those with dental practices who haven't had much experience in social media marketing. How do you keep people interested in dentistry? How do you actually convert customers from your Facebook posts? With a little bit of planning you can create a successful marketing plan via Facebook that will boost your brand in the local market.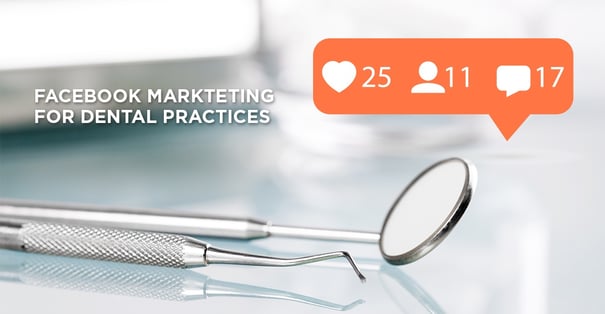 Why Facebook?
There are three major reasons that your practice should be using Facebook. First, there are 1.09 billion daily active users on an average Facebook day. 989 million of those are active daily on their mobile devices. You can be sure that your target audience is on Facebook on a regular basis, and you have easy opportunities to get out in front of them. Second, Facebook gives you easy ways to narrow down your reach to a specific group of people in your area so you can rise above the noise of Facebook posts. Finally, it's low to no cost marketing. What more reason do you need?
Ways to Use Facebook
1. Increase Your Word of Mouth
Facebook is perfect for creating bite-sized pieces of content that is easy for your followers to share. Post photos of patients celebrating milestones, employee celebrations, or first dentist visits for kids. By posting photos of your patients and employees (with a consent form) you are able to reach their network easily. In this way you vastly increase your reach with your posts and start to cultivate a new network for referral sources.
2. Special Offers through Facebook Ads
Take advantage of the tools available through Facebook's advertising. For as little as $5, you can run ad campaigns promoting any aspect of your practice. Use this opportunity to offer specials for patients who are first time visitors, or for those who make a referral. Most importantly Facebook's Ads gives you the ability to narrow down the target for your ad. You can choose by geographic region, demographics, interests, and more.
3. Provide Quality Information
More than ever your potential patients are using the internet to do their research before they visit a dentist. Be one step ahead by displaying your expertise via your Facebook page. Create blog posts or infographics that provide quality information to your viewers. While you certainly have to give specific medical advice in person, giving general tips and information boosts your SEO ranking, brings visitors to your page, and increases trust in your abilities.
4. Promote Patient Retention
Facebook gives you great ways to show your current patients that you care about them and value their business. As mentioned previously, providing them with valuable content give them confidence in you as their dentist. You can also promote contests for current patients. Give prizes or discounts to those who check in to your page while at your office. Bonus points for a photo – everyone loves a silly picture!
Facebook live gives you the ability to film a video and stream it onto your page so that your followers can watch it live. This is an easy tool to create interesting and engaging video content very easily. Some uses for Facebook live could be Q and A sessions, tours of your office space, employee spotlights, or announcements of special offers. Plus you can promote your Facebook live sessions before and then leverage the content you have created afterwards via other marketing channels.
Now What?
If you're ready to take the jump into Facebook marketing, it may seem overwhelming, but taking it slow and making a plan will give you the best chance at success. Brainstorm what kind of content you can create for your page. Then create a content calendar for the next month of your posts. Determine what exactly you will post about and whether it will be a photo, blog post, poll, etc. Consistency is key, and if you have your posts planned out for the next few weeks you will be less likely to fall behind or drop off entirely.
Conclusion
Facebook is an easy to use tool that gives your dental practice immediate benefits in brand visibility. Be sure to let your personality shine through, and truly show off what makes your dental practice different from the rest.