Employee Retention: How to Keep Great Employees in Your Practice
by 6monthsmiles, on 4/25/16 10:47 AM
When you've worked hard to build a solid practice and fill it with outstanding employees, you want to keep those people who successfully help run your business. Valuable employees who know and perform the job well, work well with your patients, and work with integrity are worth hanging on to. Here are some useful tips on employee retention:
Show Your Appreciation
This may seem obvious, but can be easily overlooked. We all get busy. We run through our hectic days, doing the job, and sometimes take for granted that employees know we love their performance. Even if they do know, it's always nice to hear a few words of appreciation. Take a few moments to say, "Hey, good job today." A little pat on the back, especially when an employee does something exceptionally well, goes a long way.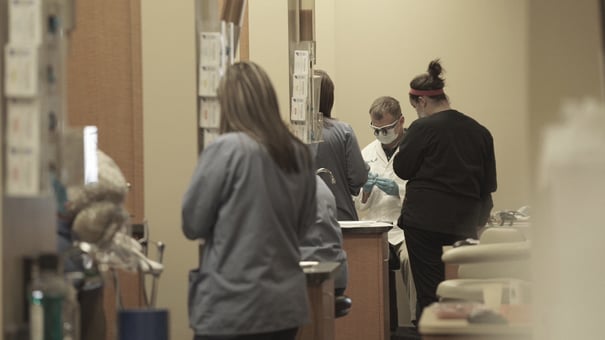 Share Patient Appreciation
When a patient comments your team's service, pass along the message. It's too common for employers to take note of a patient's good words without ever letting their employees know. Employees feel validated when they hear of a positive experience. It also makes them strive to continue good service. Nervous patients are common in dentists' offices and employees who make that experience better are the ones you want at your side.
Listen to Their Concerns
It often helps the dynamic in the practice when employees feel comfortable voicing their concerns, about business or the job. If employees feel a problem arise, let them know they are welcome to express it in a reasonable manner. Whether or not you share their views, listen to them objectively and with true interest. Communication is important in all relationships, including those between employer and employee.
Welcome Their Ideas
Every good leader knows the value of input. Some of it might be bad, but occasionally, there is a gem. The important thing is to let your team know that you value their input, even in cases when it doesn't quite fit. When an employee comes to you with anything from a revamped filing system to a new way to attract patients into the practice, show them you welcome suggestions. At the very least, they know you hear them, and at the best, they could give you something you can use.
Be Honest about Mistakes
We are all human, and as humans, we make occasional mistakes. However, when a mistake or a wrong happens several times, some employers decide to simply correct it themselves rather than create confrontation. This causes building frustration and even resentment, which can blow up after some time. Instead, correct mistakes with fairness and honesty right away. Employees will appreciate this rather than when an employer lets the situation carry on. Good team members want to do their best job, and the only way that can happen is if they know about their mistakes. Not only will this improve performance, it also makes working relationships easier.
Show Flexibility
Rightfully so, employers expect their employees to show up on time, perform well, and rise to challenges. If you have an employee who possesses all the qualities you appreciate, it helps morale to be flexible and understanding. Without allowing employees to take advantage of your generous nature, practice flexibility. Life happens to everyone: illness, school functions, family emergencies. A surprising number of employers have no tolerance for such occasions. Being an understanding and fair-minded employer will make good employees want to work for you.
Building and running a practice is hard work. Skilled, long-term employees make things a lot smoother. When you find the right ones, of course you want to hold on to them. Creating a positive environment with excellent communication, flexibility, understanding, and appreciation all contribute to employee retention.
The Six Month Smiles® Short Term Ortho System provides General Dentists with a practical and turnkey solution for adults with crooked teeth. Utilizing unique clear brackets and tooth colored wires, the system allows GPs to easily help their adult patients who think that they are "stuck" if they refuse traditional orthodontic treatment.
The World Class Six Month Smiles 2 Day Hands On Course provides general dentists, like you, with the knowledge and confidence needed to start using this award winning system to improve the lives of your patients with clear braces while simultaneously growing your dental practice and your cosmetic dentistry services. The ongoing support from Six Month Smiles gives you peace of mind as you help your patients smile with confidence.