Clinical Case Review & Patient Testimonial: Aligner Mixed Therapy Case
by Dr. Jan Einfeldt, on 2/25/20 3:44 PM
This is a story of how powerful Six Month Smiles ortho therapy can be to help patients who feel stuck. This is a classic surgical case that I was able to treat with a cosmetic approach in a short amount of time. A 30-year female came to see me for the first time because she was self-conscious about her smile. She used to get negative comments about her teeth. She wanted an improvement in her smile and was not looking for 'perfection' (what she called it a Hollywood smile).
Assessment
She is a skeletal class I with average normal lower face height, increased FMPA, competent lips, normal NL angle, slight facial asymmetry where the left eye is below the right eye and her smile is canted downward to the left. TMJs appear normal.
The oral hygiene was poor with calculus, caries LR4. All teeth present.
Lower crowding: anterior 7 mm, right 2 mm, left 4 mm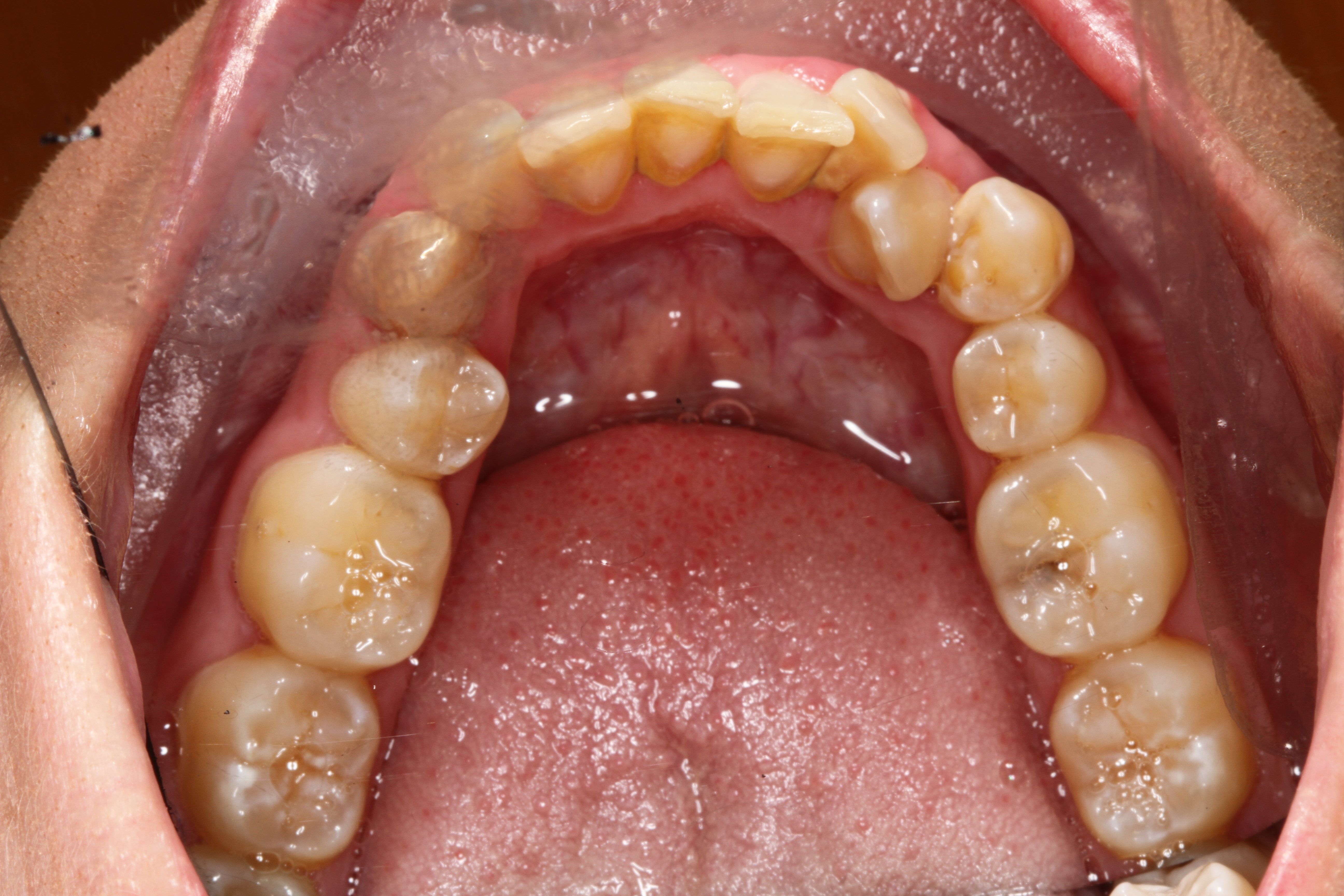 Upper crowding: anterior 5 mm, right 3mm, left 1 mm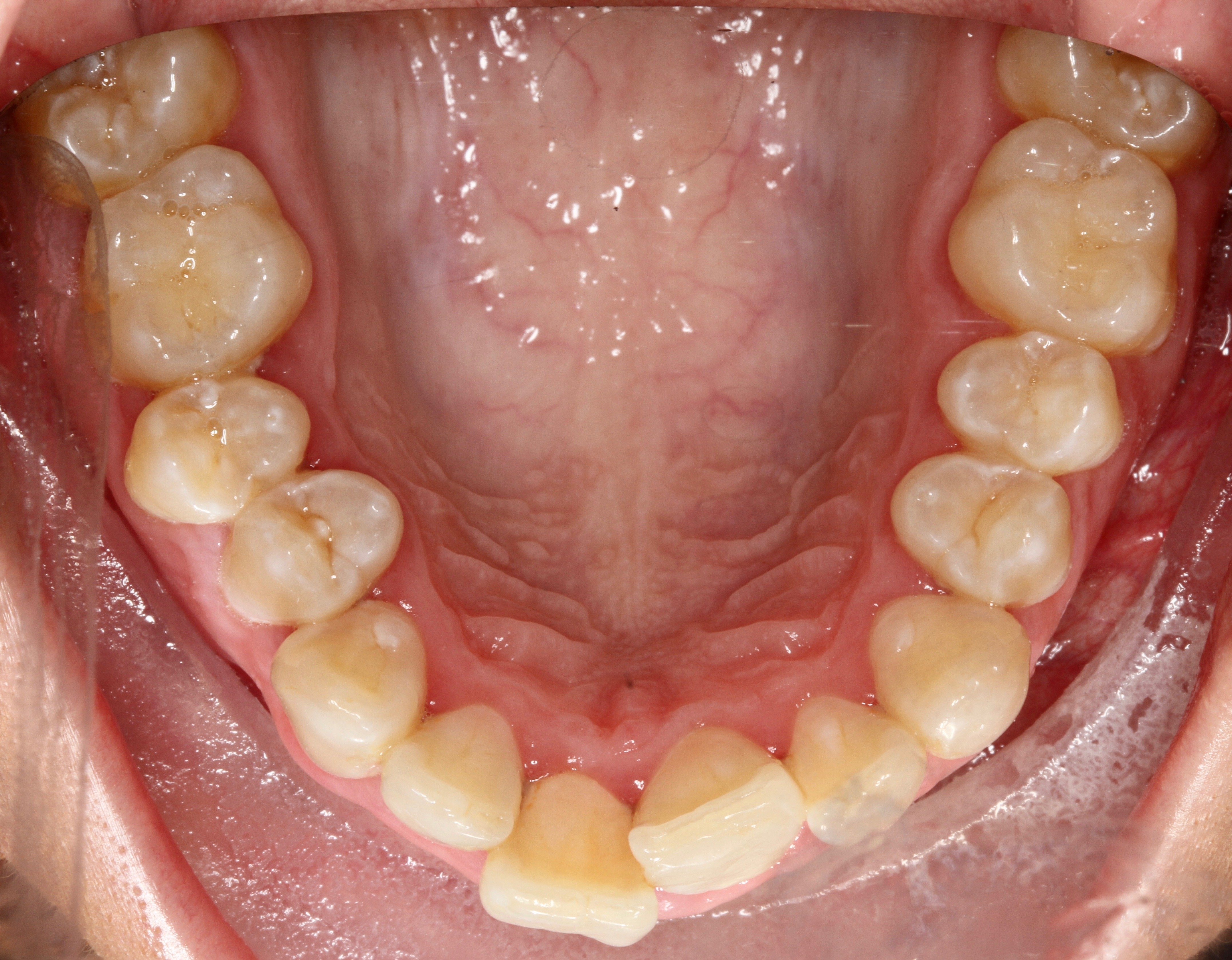 Incisor relationship cl 2 div 1, OJ 5 mm, OB 10%, Upper centre line 3 mm to the right, lower centre line coincident.
Right molar: cl 1
Right canine: cl 1
Left molar: cl 1
Left canine: ½ unit cl 2
No displacements, cross bites or scissor bites were detected.
The summary is: CL1 skeletal with cl2 incisors, cl 2 left canine and cl 1 molars with upper and lower crowding, increased OJ, reduced OB, upper centre line shift and a slight facial asymmetry with a canted smile.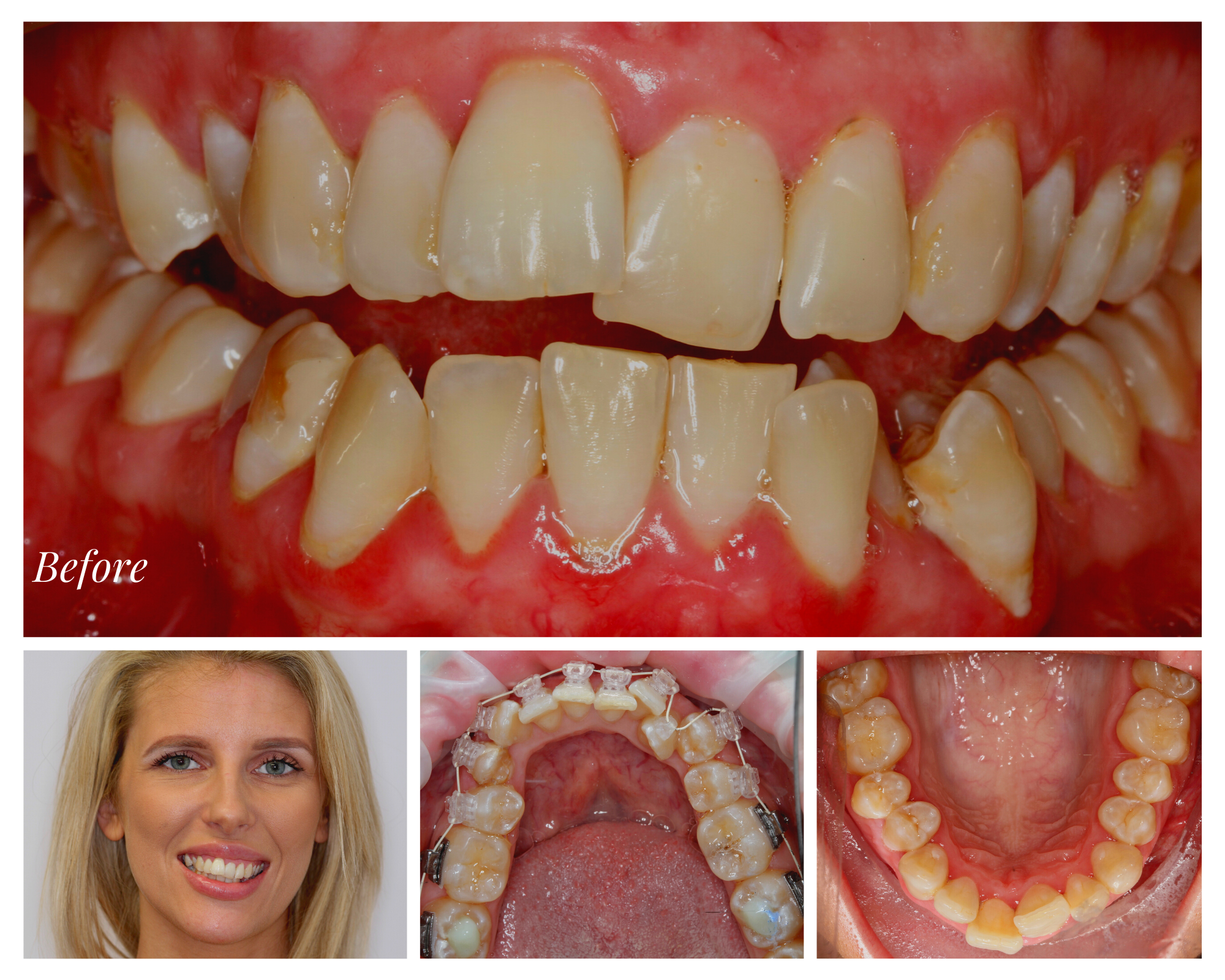 Pre-ortho Treatment:
Correction of the OH. Caries LR4 as a bracket would be placed on LR4 it was decided it would be safer to redo the composite before orthodontic treatment.
Treatment Options Discussion
We discussed if the patient preferred a comprehensive approach to try and resolve as many problems as possible, but the patient opted for cosmetic ortho to just address the upper and lower crowding. It is important that the patient understands that there is a trade-off (a compromise) when choosing a cosmetically focused plan, which allows for a shorter treatment time. The patient was not concerned about the facial asymmetry.
However, the patient liked the option of upper aligners for less visible braces and lower fixed clear braces for faster tooth movement.
The patient's teeth were scanned with the Carestream 3600 and sent to Six Month Smiles along with clinical photographs for CONFIDEX treatment plan for mixed therapy (upper aligners, lower fixed clear braces). The CONFIDEX treatment plan offered the patient a visual guide for the outcome and provides the practitioner with a step by step guide and full written consent was obtained.
The estimated treatment time for the upper arch was 7 months (aligners) and 9 months for the lower arch (fixed clear braces).
At the next appointment we fitted the upper clear aligners and lower fixed clear braces.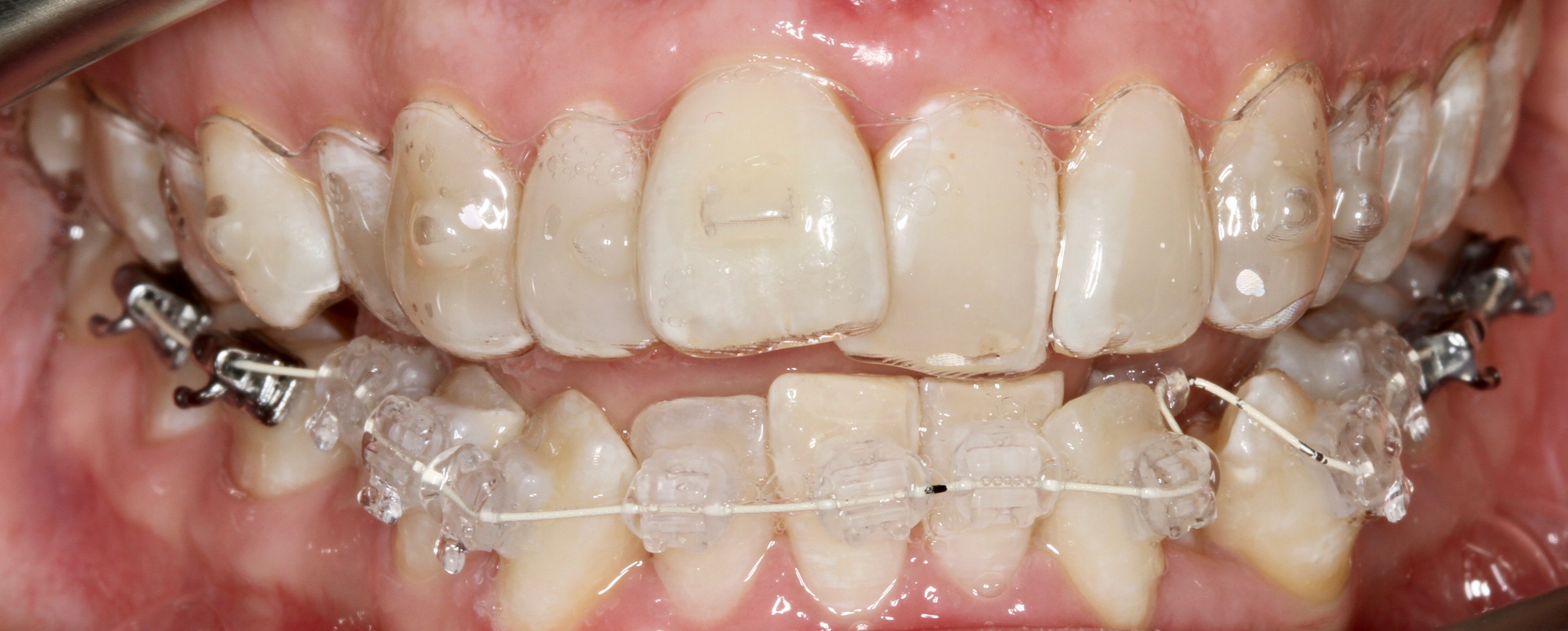 Above image pictures patient fitted with 6MS Invisible Aligners on her top arch and 6MS Clear Braces on her lower arch.
The patient was seen for monthly reviews where we checked the patient's CONFIDEX plan and that OH was not slipping.
Fortunately the lower arch completed ahead of time so that both upper and lower arch was completed in 7 months. The patient signed a form that she was happy with the position of her teeth and I checked that there we no gaps that a patient may sometimes miss.
Direct bonded retainers (Ortho FlexTechTM, available through Six Month Smiles) were placed and the braces and attachments removed. The teeth were scanned again for U/L removable retainers (Essex retainers) which were fitted 2 weeks later.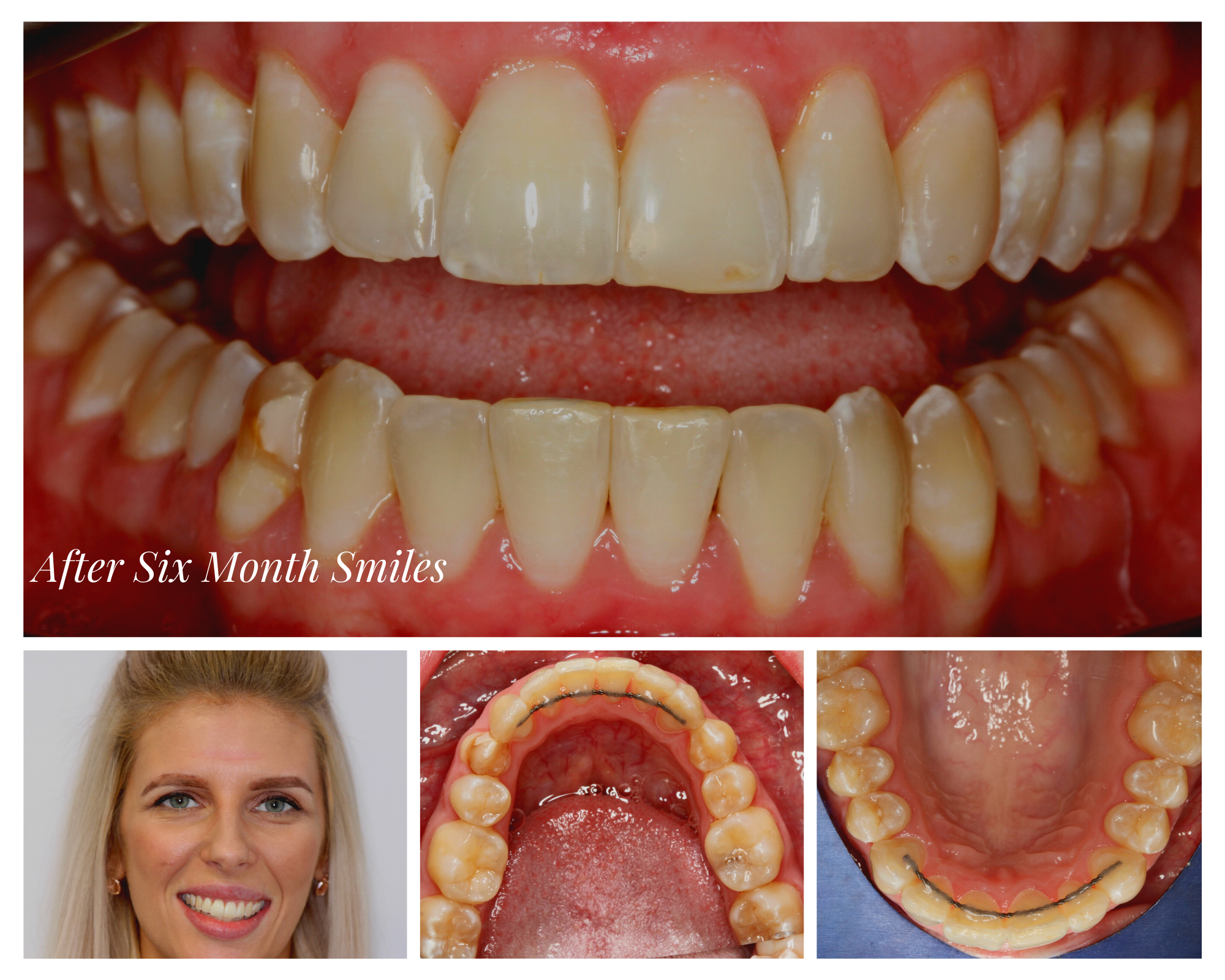 Post Ortho Maintenance
The recommended protocol is lifelong retention with fixed retainers and removable retainers for at least 6 months at night time. However, it is an advantage to keep the removable retainers as a backup for when the fixed retainers – eventually – fail.
It is recommended that the retainers are checked every 6 months.
Comments and Conclusion
The patient was delighted with the outcome, especially since the lower arch finished ahead of time and at the same time as the upper arch.
Upper right 2 could have been rotated more.
The clinical photographs were not all in the ideal position (occlusion), but the use of digital technology (scanners and digitising impressions) allows for a better assessment.
It is possible to obtain informed consent when it is made clear which objectives (goals) we are trying to achieve (U/L crowding) and which ones we are not trying to achieve (midline shift, facial asymmetry). However, it is worth mentioning any problems and that they will not be corrected.
Patient's Reaction