Announcing a Remote Training Option for GPs Who Want to Learn Braces
by Six Month Smiles, on 3/16/21 11:37 AM
The New World and What That Means for Provider Training
The world is changing, and so is Six Month Smiles! We understand that travel restrictions and social distancing have made it less practical to attend a 2-day course these days. Therefore, in looking at what our dentists need and want from an educational course in this new world, a 2-day course no longer works as the only training option for Six Month Smiles. You told us you wanted the flexibility of choosing between online and live training, and we couldn't agree more!
We made delivering the best online training possible our highest priority. From testing livestreamed course options to launching an on-demand Aligner course during the Covid year, your feedback told us sitting in front of a computer for 4-8 lecture hours didn't work for you but learning at your own pace does. While some dentists want online training that doesn't require them to leave the office or their families, others want the ability to attend a live course to participate in the instructor-led hands-on skills.
That's why Six Month Smiles has invested resources in the past several months into building a fully on-demand training program complete with bite-size lessons to teach the essential skills needed to treat patients with Six Month Smiles – no matter which treatment the patient requires. We are excited to announce the upcoming release of our Braces e-Course!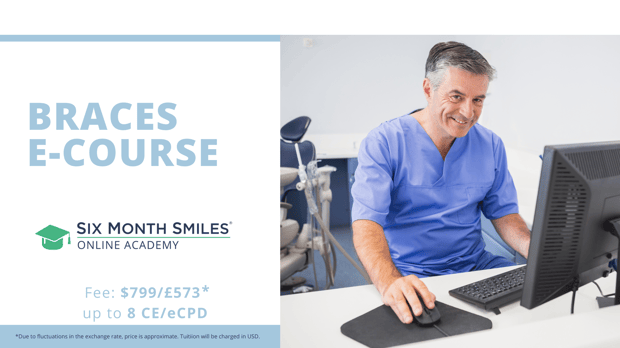 Braces e-Course Overview
The Six Month Smiles Braces e-Course covers everything you need to treat patients successfully. Because completing the training also gives you the ability to submit 6MS Clear Braces cases, we also train you on how to use our systems. In total the course provides up to 8 hours of professional dental continuing education at a cost of $799. The figure below shows the breakdown of how those hours are split.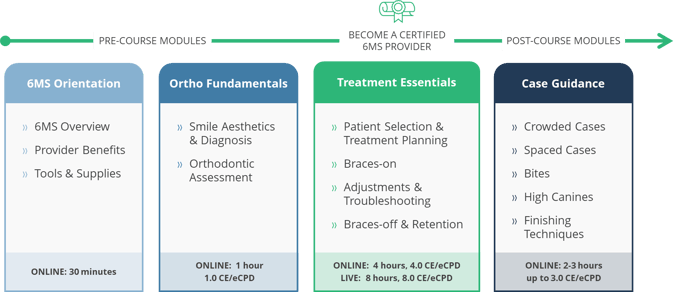 Figure 1. Six Month Smiles Braces e-Course Training Modules
Availability
The Braces e-Course is now available to dentists. Interested dentists may register at this link to receive immediate access to course content. Current Six Month Smiles providers are encouraged to access the courses page in the Provider Resource Center and may qualify for a special rate.
For more information, please contact us.