Lifestyle Blogger Amelia's Six Month Smiles Journey (with video)
by 6monthsmiles, on Apr 12, 2019 11:40:17 AM
Luxury lifestyle blogger and vlogger, Amelia, took her followers on her own six-month transformation with Six Month Smiles. Told in words, pictures, and video clips, Amelia generously gives viewers an up-close view into every step of the journey. Having survived traditional braces during her teen years, this 27 year-old from the Midlands, UK, says that her new teeth are "more perfect than I could have ever dreamed!"

Thanks to her prior ortho work, Amelia has relatively straight teeth. However, she frequently points to the little "snaggletooth" on her bottom row that bothers her. Having had the ortho work to fix her teeth when she was a teen, her teeth have moved again because of her wisdom teeth. She simply wants the perfect smiles she enjoyed previously.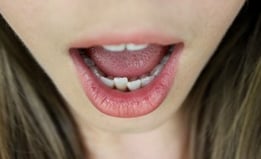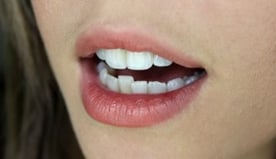 Starting from the day of her first consultation at Beaufort Dental Health Centre, Staffordshire with Six Month Smiles provider Dr. Gail Cadwallader , Amelia openly discusses the emotional and physical changes that she encounters. For example, you can watch her recording her thoughts from the parking lot just prior to going in for her first visit; and she discusses her anxiety about having ortho work done in her 20s.
Watch Amelia's Full Journey Here!
She is also very vocal in expressing how fast and easy each visit is -- going as far to call her initial consultation as "lovely." (In her lovely British accent as well.) And after initially feeling some anxiety, she is "excited" about the prospect of her results.
Her fitting takes about an hour, and Amelia is happy to point out that the braces don't feel bulky. In watching the video, you won't really be able to see her braces until she pulls down her lower lip and exposes the clear braces and wires. Later in the day, she goes into some details about eating on Day 1 with her new brackets.
And in almost all of her vlog posts, she points out that there is nearly no pain with the Six Month Smiles system. Specifically saying that she has "a bit of an achy mouth in the morning..."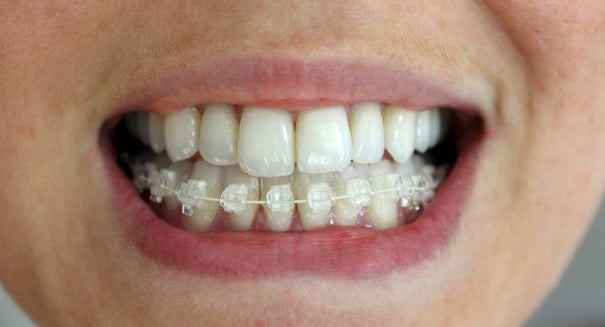 Once the Six Month Smiles braces were in place, Amelia takes a bit of time to talk about her eating habits while wearing the brackets. Earlier in a vlog, Amelia talked about celebrating her last bottle of red wine before having the brackets placed. Because the clear brackets can stain with beverages like wine and food like curry, patients (like Amelia) should avoid those while under treatment. Amelia used this entry to share with viewers her joys of eating foods like burgers while wearing braces.
At three weeks, she was so comfortable with her braces, she tried to eat some tough steak without properly cutting it into bite-sized pieces. So a few of the brackets came loose – and she headed over to the dentist for a quick repair.
During the repair, the dentist noticed how quickly her teeth were coming into alignment. So she got an upgrade to a stronger wire to push the progress forward.
A few weeks later, she updates her video log to say, "there's been nothing to talk about." She is comfortable and happy with the progress and isn't feeling discomfort at all. Her progress is very fast and she is likely to finish prior to the six months. She also updates us on her eating habits, confirming that she is enjoying tea and coffee every day.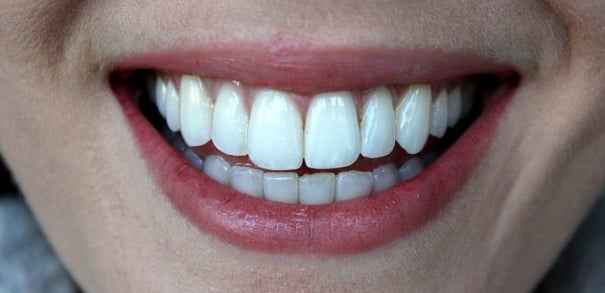 At her next appointment, she points out that her "snaggletooth" sits a bit higher than the rest of her bottom teeth. So with a bit of bracket adjustment by the dentist, her wire and brackets will be able to pull that tooth into vertical alignment with the others.
And she points out that her dentist is also wearing Six Month Smiles!
Finally, after four months, Amelia has her braces removed. With a quick video showing her dental work, she proudly displays her brace-free teeth. Thanks to a little wire on the back of her teeth, along with a retain to wear at night, her smile will stay flawless.
In her words, "I have a perfect smile again!"
Interested in Six Month Smiles? Click below for more information or find a provider in your area!
Dentists: Download our free eGuide below for info on providing Six Month Smiles to your patients!