Twins Provide Side-by-Side Comparison: Six Month Smiles vs. Invisalign
by 6monthsmiles, on Feb 22, 2016 2:11:24 PM
How do you compare cosmetic ortho services (like Six Month Smiles and Invisalign) when every patient is different? Different patients have different needs, right? Not the case with a pair of identical twins from Idaho.
When 27-year old Tessa decided to fix her cosmetic ortho problems she opted for Invisalign. Why not Six Month Smiles? Tessa had never heard of the company. Then one day at a networking lunch she ran into Dr. Erin Elliott, a family dentist who provides Six Month Smiles as a core service to her patients. Dr. Elliott inquired about Tessa's experiences with Invisalign, and Tessa shared some of her feelings and frustrations. And at the end of the lunch, after hearing about Six Month Smiles, Tessa said, "How come I didn't meet you sooner?"
A few weeks later, Dr. Elliott got a call from Tessa about her identical twin sister, Kristen. Kristen had the exact same problems with her teeth but wanted to try Six Month Smiles instead of Invisalign.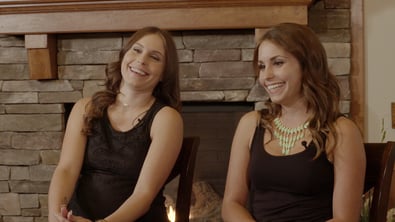 Tessa says, sitting next to her twin, "After a year and a half, I realized Invisalign wasn't really doing the job," Rotations, intruding and extruding teeth became a frustration. And when you watch the video, you get a visual side-by-side comparison. Tessa is still undergoing treatment; Kristen is done. And you can see the difference in their smiles.
What's Kristen's opinion about Six Month Smiles? "Everything they say is going to happen, happens. It's an easy, relaxing process," she says in the video. "At the end of the day, having Six Month Smiles surpassed in so many ways."
We couldn't say it better ourselves.
Are you a patient intersted in Six Month Smiles? Click here to find a Six Month Smiles dentist near you!